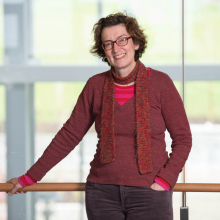 Tasha Diamant is an artist, performer and educator. Her interests include arts-based and arts-informed research, performance art, visual art, activism, embodiment, life writing, indigenist research and feminist research. She is the creator of the Human Body Project, in which she embodies human vulnerability by appearing naked and unscripted in performance and in public spaces. She teaches yoga at her daughters' schools and co-facilitates drama and creativity workshops at William Head prison. She is also a co-creator/cast member in the community theatre project called From the Heart: enter into the journey of reconciliation.
Experience
Before coming to Royal Roads, Diamant taught public speaking, interpersonal communication, art, writing and research at Lethbridge College from 2004 to 2011. In 2010, she won the Lethbridge College Faculty Association and Students' Association Teaching Excellence Award. She also taught academic writing at the University of Lethbridge in 2007. Diamant is a former journalist, who worked for Maclean's magazine and Australia's Who Weekly and freelanced for many years. She was creative director for an ad agency in Lethbridge, Alta., and also worked in communications. She has taught yoga since 1997 and was a serious visual artist for more than a decade. You can see some of her art on her gallery website.
Education
n.d.
Master of Education, specializing in arts-based and arts-informed research
University of Lethbridge
n.d.
Bachelor of Arts (Honours)
Queen's University
Awards
2012
Canadian Association for the Study of Women in Education Graduate Award
-
2006
Southern Alberta Art Gallery Award
-