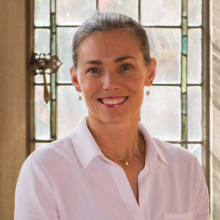 Dr. Suzanne Flannigan is an experienced higher education professional and an associate faculty member in the School of Education and Technology. She is responsible for the development of the Leadership and Learning in Higher Education course, offered for the first time in spring 2015. Since 2015, she has also taught Organizational Communication and Culture in a Globalized World. Her primary research interests include cultural change and communication specifically related to behaviour and the dynamic interactions among strategic leadership, learning and change. Flannigan is a nationally certified, professional endurance triathlon coach and an active volunteer in the Victoria community. She has held a variety of sport-related leadership roles including president of the Lower Island Women's Soccer Association, vice-president of the British Columbia Soccer Referee's Association and board member of the British Columbia Soccer Association.
Experience
Flannigan has worked in education since 1988. She is currently the dean of the Faculty of Management at Vancouver Island University. Prior to retiring (for the first time) in 2012, she worked as vice-president of academic affairs at Hartnell College in California. As the academic vice-president, Flannigan was responsible for all strategic academic planning, instructional programs and services, the annual budget and all instructional grants. In addition, Flannigan oversaw all accreditation activities, led the hiring and the tenure review processes and was responsible for more than 350 faculty and staff.
She has been the recipient of several scholarships including the University of Lethbridge Athletics and Academics Scholarship, the John and Suanne Roueche Endowed Scholarship and the Houston Endowment Scholarship. Flannigan has co-authored a book entitled The Hiring Game: Reshaping Community College Practices (2008), co-authored a case in The Leadership Dialogues (2004), and has published and presented on leadership, culture, communication, change and hiring practices.
Education
n.d.
PhD in Higher Education Administration
University of Texas at Austin
n.d.
MBA
University of Western Ontario
n.d.
MEd
University of Victoria
n.d.
Bachelor of Arts in English
University of Lethbridge
n.d.
Instructor diploma
Vancouver Community College
Publications
The Hiring Game: Reshaping Community College Practices (2008)
Co-authored a case in The Leadership Dialogues (2004)