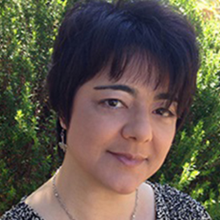 Dr. Silvina Paciencia Bamrungpong is an educator, entrepreneur and researcher. Bamrungpong is a passionate polymath; her work is interdisciplinary and connects the areas of business, creativity, systems theory, technology and various digital media forms. Her principal areas of research dwell in exploring and investigating digital and physical spaces towards the creation of immersive and interactive environments.
Experience
During Bamrungpong's more than 25 years in industry, she has held executive positions for global organizations, such as FISERV, General Motors and KPMG. Bamrungpong's academic career begun in 2005 and she currently serves as a faculty member of California State University, Northridge and California Lutheran University. Since 2007 Bamrungpong has consulted for organizations and joined Royal Roads University as an academic supervisor for the School of Leadership Studies in 2014.
Memberships and Committees
Bamrungpong has been a fellow of the Institute for Social Innovation since 2012.
Education
2012
PhD in Human and Organizational Systems
Fielding Graduate University
2010
Master of Arts in Human Organization Development
Fielding Graduate University
2006
Master of Business Administration
California Lutheran University
2004
Bachelor of Science in Organizational Leadership
Azusa Pacific University