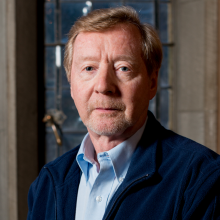 Ronald Fisher is a scholar-practitioner in the field of peace and conflict resolution. He is a professor of international relations and director of the International Peace and Conflict Resolution Program in the School of International Service at American University in Washington, D.C. Fisher was a member of the curriculum design committee that created the MA in Conflict Analysis and Management program at Royal Roads. Subsequently, he was a member of the advisory board for the program and the School of Humanitarian Studies, and for the past several years has taught in the second year residency and the applied skills option.
Experience
Fisher has more than 35 years' experience as a trainer and consultant in the areas of conflict management, communication skills, small group processes and team building. He has provided workshop design and training expertise in conflict resolution to several international institutes that organize workshops for diplomats, NGO staff, military personnel and citizen peacebuilders from a wide range of countries. Fisher taught at the University of Saskatchewan for 25 years, and has been a visiting professor at several universities, primarily in Europe, the United States and Canada.
He has been elected a fellow in both the Canadian and American Psychological Associations.
Education
n.d.
PhD in Social Psychology
University of Michigan
n.d.
MA in Psychology
University of Saskatchewan
n.d.
BA (Hon.)
University of Saskatchewan
Awards
2011
Nevitt Sanford Award
From the International Society of Political Psychology
2003
Morton Deutsch Conflict Resolution Award
From the Peace Psychology Division of the American Psychological Association