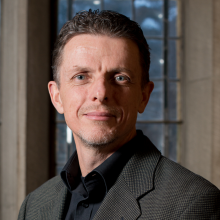 Robert Pidgeon is a partner with the firm ADR Education, a national consulting practice helping those in organizations resolve disputes and build conflict capacity. He came to conflict work drawn by his long and continuing curiosity regarding both self-awakening and complex problem solving. His interest in meditation and martial arts combine with a background in applied mathematics to drive him to challenge himself, his clients and students to deeply understand both themselves and the complexity of their system as a means to transform conflict.
Experience
Pidgeon brings decades of experience in designing and facilitating conflict and dispute resolution systems and processes for a broad range of clients. One of Canada's most respected conflict educators, Pidgeon has been an associate faculty member in the MA in Conflict Analysis and Management program since 2006 and has also contributed regularly to the university's MA in Environmental Education and Communication. Closer to home, Pidgeon teaches a two-course introduction to conflict management with the University of Toronto. His work with private sector and government clients includes providing a full range of dispute resolution and system design services.
Pidgeon is a Chartered Mediator with the Alternative Dispute Resolution Institute of Canada. He also holds certification from York University's dispute resolution program and is trained as a restorative justice circle keeper with Peacebuilders International.
Education
n.d.
Master's in mathematics
University of British Columbia
n.d.
Master's in conflict management
Royal Roads University