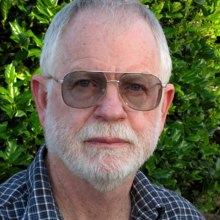 Robert Kull is an educator, thesis supervisor and researcher. His research interests include lived experience, narrative and autoethnography; the effects of deep wilderness solitude; transformations of consciousness; and evocative photography. Kull has taught in the Master of Arts in Environmental Education and Communication (MAEEC) program for seven years. He has been a presenter for Royal Roads' Centre for Teaching and Educational Technologies, an online instructor and thesis supervisor. His book Solitude: Seeking Wisdom in Extremes was published in 2008. His work has appeared in Canadian Geographic Magazine, for 'My Year Alone in the Wilderness' in 2004, and in Mary Magazine for the story 'Harmonic Abandon.' Kull is also a lecturer in the University of British Columbia's Interdisciplinary Graduate Studies program. His volunteer work and community involvement includes guest lecturing, storytelling and participating in environmental demonstrations. Visit his website, www.bobkull.org.
Experience
Kull has worked as a travel guide, construction worker, logger, truck driver, bartender, dishwasher, firefighter, photographer and teacher. He taught organic vegetable gardening and first aid and helped rebuild after a hurricane in Jarabacoa, Dominican Republic, from 1998 to 2000. He was a scuba diving instructor in the Caribbean from 1982 to '86.
Kull received an honorable mention at the 28th Annual National Magazine Awards. He holds certificates in PADI, NAUI SCUBA Instructor Emeritus, and photography from the Northern Alberta Institute of Technology.
Education
n.d.
PhD in Interdisciplinary Studies
University of British Columbia
n.d.
Bachelor of Science in Psychology and Biology, with a minor in environmental studies
McGill University
Awards
2013
Kelly Outstanding Teaching Award
From Royal Roads University