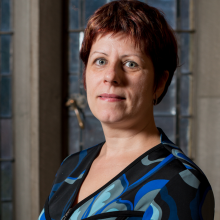 Oksana Bartosh has been an associate faculty member at Royal Roads University since 2009. She has more than 15 years of research experience and has conducted studies in Canada, the United States and Europe. She has training, expertise and practical experience in conducting systematic literature reviews, program and project evaluations, policy reviews and analyses, labour market research, development and review of education standards, quantitative and qualitative research and meta-analytic research. Her research interests include environmental education; communication and community engagement; labour market research including competency and occupational profile development, integration of internationally trained professionals into the Canadian labour market; and natural/ environmental disasters and their impacts on individuals and communities.
Experience
Bartosh is a partner of Directions Evidence and Policy Research Group, a Vancouver-based consulting company that specializes in decision-oriented research, evaluation and policy analysis, and provides research services to clients in the private and public sector.  She has worked as a researcher for organizations such as Canadian Council on Learning and Pacific Education Institute. She also teaches research methods in the Faculty of Education at the University of British Columbia.
Education
n.d.
PhD in curriculum and instruction
University of British Columbia
n.d.
Master's in environmental sciences and policy
Central European University
n.d.
Master's in environmental studies
Evergreen State College
n.d.
Bachelor's degree in structural and applied linguistics
Kharkov National University