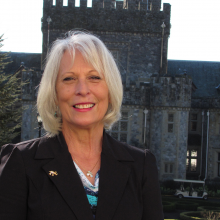 Marie Graf is a leadership practitioner, researcher and leadership development expert with a passion to develop leaders. She has extensive experience supporting organizations to achieve optimal results in constantly changing landscapes, focusing on innovative approaches to systemic change. A relationship-based mentor, Graf engages and energizes leaders in their quest to build strong organizations. She works with national and global organizations to realize their visions through understanding the challenges and necessary steps to successfully achieve them. 
Experience
Graf is a senior partner in DPG Consulting Inc., where she focuses on innovation, co-creativity and leadership development. She has also held leadership roles with the province of B.C., crown corporations and in the private sector. Graf joined Royal Roads University as an associate faculty member in 2004. She designs and develops new course curriculum and program evolution, instructs various courses, served as the year two program head for the Master of Arts in Leadership program and supervises graduate level studies. Graf is passionate about guiding students through their journey, supporting and celebrating with them along the way.
Memberships and Committees
Graf is a founding member of the High Technology Crime Investigation Association B.C. Chapter.
Education
n.d.
Master of Arts in Leadership
Royal Roads University
Awards
2012
Kelly Outstanding Teaching Award
Royal Roads University
2003
Excellence in Project Management Award
Province of B.C.