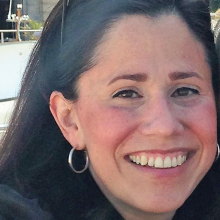 Dr. Laura Olson has more than 17 years of experience leading disaster recovery, hazard mitigation, climate adaptation and resilience initiatives across the globe. She works with governments, private sector organizations and communities on organizational resilience, capacity-building and change management in post-disaster contexts. She has worked in the Middle East, Asia, Africa and North America and has responded to disasters and crises with a variety of organizations, including the US Department of Housing and Urban Development, the White House, the American Red Cross, United Way, the United Nations Development Programme's (UNDP) Climate Change & Disaster Risk Reduction Cluster, and the US Federal Emergency Management Agency (FEMA). Major incidents she has responded to include Hurricane Katrina, the Gulf Oil Spill, the Tuscaloosa tornado, Hurricane Sandy, Thai floods, the 2014 war in the Gaza Strip, drought and flash flooding in Africa, and a number of other smaller domestic and internationals disasters.
Experience
Often called on to conduct post-disaster needs assessments after major events, Olson designs solutions to disaster risk reduction, climate change adaptation and recovery dilemmas. She also trains government, international organization and non-governmental organization staff on disaster management best practices. She uses vulnerability, risk and social resilience models in her consulting and research projects.
Olson's academic pursuits include teaching at the graduate level in Royal Roads University's School of Humanitarian Studies and in Georgetown University's Emergency and Disaster Management (EDM) program. She is a Research Associate at Jacksonville State University's Center for Disaster and Community Resilience where she studies how non-profits, local and state governments are collaborating to assist Puerto Rican evacuees from Hurricane Maria in cities along the Eastern Corridor in the U.S. She has a long collaboration with the United Nations University Institute for the Environment and Human Security, is a fellow with Virginia Tech's Global Forum on Urban and Regional Resilience (GFURR), and is co-coordinator of training and education for the Culture and Disaster Action Network (CADAN).
Education
2011
PhD in Public Administration
The George Washington University
2000
Master of Arts in Political Science
Karls-Ruprecht-Universität Heidelberg, Germany
2000
Master of Arts in German Literature
Karls-Ruprecht-Universität Heidelberg, Germany
1991
Bachelor of Arts in Political Philosoph
Macalester College