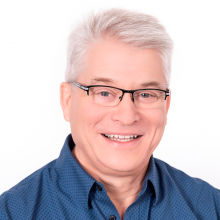 Kevin MacLeod has an extensive teaching background, having taught secondary and post-secondary students in person and online, including teaching at one of the first online grade schools in Alberta. During his career as a teacher, MacLeod has also been a curriculum team leader, curriculum consultant, department head, academy diploma coordinator, and an instructor in undergraduate and graduate teacher education programs.
MacLeod is interested in applied research that focuses on the continued development of teachers as leaders who create innovative, engaging and meaningful educational environments for their learners, including drawing from action research formulations and school improvement processes to do so.
Experience
In post-secondary settings, MacLeod has taught undergraduate courses and supervised practicums for students in the teacher preparation programs at the University of Lethbridge and the University of Calgary. He has been a sessional lecturer in the Faculty of Education at the University of Prince Edward Island since 2002, which includes as an adjunct professor. MacLeod has taught graduate courses in curriculum studies, graduate seminars, qualitative research and research methods.
Education
2001
Doctor of Philosophy in Educational Contexts (Interpretive Studies)
University of Calgary
1996
Master of Education in Teacher Development and Practice
University of Lethbridge
1990
Bachelor of Education
University of Alberta
1986
Bachelor of Commerce
University of Alberta