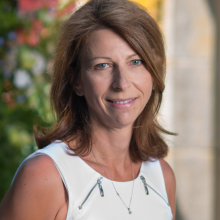 Johanne Paquette has taught English literature and writing for almost 20 years at both the high school and university levels. Her main research interest is in the readership of medieval manuscripts, especially 11th- to 13th-century Anglo-Norman hagiography. She is involved in digital humanities research focusing on the effect of technology on reading patterns. Paquette was part of a team who developed the digital edition of the Devonshire Manuscript, an early modern miscellany created at the time of Henry VIII. She has published academic work on the 16th-century glosses of Carthusian monks in the Book of Margery Kempe, as well as the use of software to determine the interconnection of poetic contributions found in the Devonshire Manuscript.
Experience
Paquette has taught academic writing for the past ten years at Royal Roads and the University of Victoria. A freelance technical and advertisement writer, she has written owner's manuals, publicity materials and web content for various business sites. Paquette has assisted in composing scientific protocols and written technical documentation for a variety of tech companies, including The Carbon Solution in BC, Bestek in Taiwan and Ultimate PSM in the United States.
She was a recipient of the Social Sciences and Humanities Research Council Award at the University of Victoria (2009), and the William and Doreen Kerby Scholarship in Medieval British Literature (2010). Other awards include a University of Victoria Fellowship (2006), and the James McGill Award, McGill University (1992 and 1995).
Education
2006
Master of Arts in English Literature
University of Victoria
1997
Bachelor of Education TFSL/ TESL
McGill University
1995
Bachelor of Arts in English and French Literature
McGill University