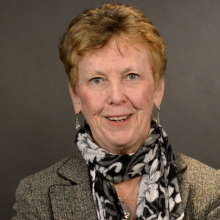 Gail Snider is an educator, leadership mentor and retired Ontario elementary school principal with 30 years' experience in the education sector. Her research interests focus on issues of poverty and its impact on student learning and achievement. She also is interested in improving parent engagement strategies in children's learning. Snider is a mentor with Leadership Victoria and enjoys travelling, gardening, fishing and spending time with her six grandchildren.
Experience
Snider spent 15 years working as an elementary school principal within the York Region District School Board and another 15 years as a secondary school geography teacher and department head. She also worked as an assistant to a superintendent of schools. She spent several summers working with the Education Quality and Accountability Office in Ontario and has presented workshops to principals, teachers and directors of education about effective assessment strategies for student learning, behaviour-descriptive interviewing techniques and improving parent engagement for student learning. Upon moving to Victoria, Snider spent five years as director of operations for a non-profit agency that offered support to people with mental health, addictions and issues of poverty and is currently the executive director of an organization serving the needs of seniors. She has served as a board member of the Victoria Compost Education Society, Together Against Poverty Society and Big Sisters of York Region in Ontario.
Education
2008
Master of Arts in Leadership and Technology
Royal Roads University
1986
Master of Education
Ontario Institute of Studies in Education
1977
Bachelor of Education
University of Toronto
1976
Bachelor of Arts
University of Guelph
n.d.
Certificate in mental health and addiction
-
Awards
1976
Royal Canadian Geographical Society's Undergraduate Thesis Award
-