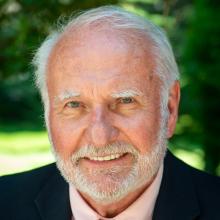 Dr. Finn Knutsen brings a wealth of public and private sector experiences combined with international experience to the classroom. His academic interests and perspectives are centred internationally on sustainability and inclusivity. Knutsen brings years of entrepreneurial and executive knowledge and experience in the areas of policy, program evaluation, technology development and marketing among many others to the classroom. His personal interests are an extension of his academic interests expanded to include his family, boating, music, the environment, the cosmos and spirituality.  
Experience
Prior to teaching at Royal Roads, Knutsen taught for Asia Pacific International University as well as in various corporate settings. He has been a CEO, executive and entrepreneur in multiple sectors including aerospace, defence technology, technology development, management consulting, venture capital placement, internet and the marine sectors. A 25-year Royal Canadian Air Force (RCAF) veteran with 25 years business experience, Knutsen has published work consistently throughout his public and private sector careers. He has travelled extensively, studied in seven countries and lived and worked in three countries.
Education
2002
D.B.A. in International and Strategic Management
Asia Pacific International University (California)
1994
MBA
Asia Pacific University (New Zealand)
n.d.
graduate diploma programs diploma programs in Aerospace Engineering Management
RCAF
n.d.
European Strategic Studies
Royal Norwegian Air Force
Awards
1988
RCAF Meritorious Service Cross
-
n.d.
Canadian Forces Service medal and clasp
-