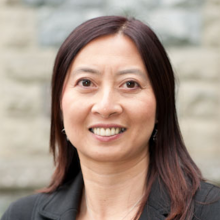 Elsie Chan joined the Faculty of Management at the Royal Roads University as an associate faculty member in November of 2008. Her areas of teaching include research methods and understanding economic decision making. In addition to her teaching duties, she has dedicated time exploring the learning and teaching process. Chan has published several articles and has conducted numerous presentations at teaching and learning conferences, such as the Society of Teaching and Learning in Higher Education and Teaching conferences and Learning in Higher Education conference at the National University of Singapore.
Experience
Chan is the president of Elsie Chan & Associates Inc., which provides professional qualitative/quantitative research in both the public and private sectors. She has extensive experience in project management, designing surveys and focus groups, and analyzing data. Chan conducted a comprehensive survey of cruise ship passengers visiting Victoria. The results were presented to more than 150 local businesses and garnered media coverage.
She has been featured in numerous publications for her teaching. In 2001 and 2002, she was named one of the most popular professors in Maclean's Guide to Canadian Universities & Colleges. 
Education
n.d.
MA in applied economics
University of Victoria
Awards
2000
Excellence in Teaching Award
University of Victoria's Alumni Association