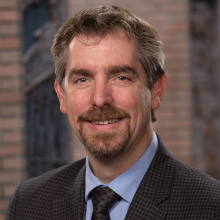 Chris Kearns works full time in Emergency Services and sidelines in Emergency Management when the situation requires it. He teaches for Royal Roads in the Disaster and Emergency Management program.  Chris has also taught at Lethbridge College in their criminal justice degree program. His research interests are in disaster risk perceptions, evacuation behaviours, disasters and young adults, and the psychological impacts on emergency communicators.
Experience
Chris has spent the majority of his career in emergency services, specifically in emergency communications.  He started as a communications operator (9-1-1 and police/fire dispatch) in Fredericton, New Brunswick. Chris progressed through the ranks and eventually became the centre supervisor. In 2005 Chris moved to Saint John, New Brunswick, as the Public Safety Communications Centre operations manager. Shortly afterwards he packed up his family and moved to Lethbridge, Alberta, to take on the manager role for the City's Public Safety Communications Centre. Today, Chris, is a Deputy Chief with Red Deer Emergency Services. Chris served in the emergency operations centres for the town of High River during the 2013 floods and also in Fort McMurray during their devastating wildfires in 2016.
Chris is also a Certified Emergency Manager (CEM) through the International Association of Emergency Managers.
Education
2017
Doctor of Science in Emergency Management
Jacksonville State University
n.d.
Master's Certificate in Project Management
York University (in conjunction with University of Lethbridge)
2006
Master of Science in Emergency Management
Jacksonville State University
2003
Bachelor of Business Administration
University of New Brunswick