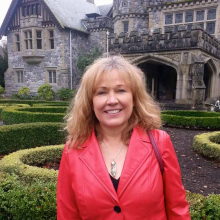 Carol Brown is a scholar-practitioner who has a keen interest in dialogue, process and organizational development. She holds relational practice in high regard and views it as the bridge between seemingly opposing ideas. Brown's research and practice interest is focused on shared leadership and collaborative processes. She has two adult children and lives in Sooke, B.C.
Brown has a CGA designation.
Experience
Brown practiced business law and for 20 years was counsel to hundreds of small and medium enterprises negotiating a variety of business agreements. She has been mediating since 2000 and is a member of the Mediate B.C. Roster, and focuses on workplace mediation. Brown has also participated as a corporate director since 1986, mainly on non-profit boards, where she has been able to practice her relational and problem-solving skills with curiosity, compassion, and the courage to voice a dissenting opinion. In 2008, Brown was a corporate director for the Insurance Corporation of B.C. In 2009, she was appointed to the Prince George Airport Authority, where she chairs the human resource committee.
Brown has a CGA designation.
Education
2013
Human and organizational development
Fielding Graduate University
n.d.
Master of Arts in Leadership
Royal Roads University
n.d.
A law degree
University of Western Ontario
n.d.
Bachelor of Commerce
University of Windsor
n.d.
Certificate in conflict resolution
Justice Institute
n.d.
Director's education program
Rotman School of Business