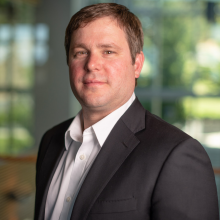 Brett Duncan joined Royal Roads in 2018 and currently teaches in the School of Business and the College of Interdisciplinary Studies. Duncan's integrated approach to sustainable business and innovation is informed by an interdisciplinary perspective and professional interests in cultural anthropology, developmental psychology, brand experience design, multimedia storytelling and international relations. He is a co-founder of an organization focused on revitalizing indigenous knowledge systems in British Columbia. To this effect, Duncan's research-driven sustainable development projects are concentrated on solving complex problems in BC's natural resource sector.
Experience
Duncan has spent the past 15 years helping purpose-driven organizations communicate, innovate and create partnerships for positive social impact in local and global contexts. From 2003 to 2015 Duncan was based in Seoul where he was engaged in international business and organization development capacities, which included strategic leadership roles in Human Resources and Global Marketing. Duncan worked with Berlitz and Prudential Financial before joining Samsung Electronics' global headquarters in 2009. After six years of collaboratively building a culture of meaningful innovation across Samsung's subsidiaries in 80 countries, Duncan returned home from the frontiers of digital transformation to join the collective effort of creating a more sustainable Canada.
Credentials
Duncan holds a Master of Arts in International Studies, Global Strategic Leadership and Organizations (2009) and a Master of Business Administration, Global Marketing and Brand Strategy (2009) from Yonsei University in Seoul, with coursework at SDA Bocconi School of Management in Milan and fieldwork with the National University of Singapore. He received a Dean's Scholarship from the Yonsei School of Business in 2008 and the Meritorious Service Award from the Yonsei Graduate School of International Studies in 2009. Duncan also holds a Bachelor of Arts in Psychology and Writing from the University of Victoria (2003).
Education
2009
Master of Arts in International Studies, Global Strategic Leadership and Organizations
Yonsei University, Seoul
2009
Master of Business Administration, Global Marketing and Brand Strategy
Yonsei University, Seoul
2003
Bachelor of Arts in Psychology and Writing
University of Victoria
Awards
2008
Dean's Scholarship from the Yonsei School of Business
-
2009
Meritorious Service Award from the Yonsei Graduate School of International Studies
-