You have to react, you have to adapt, then you evolve
Topics
Share online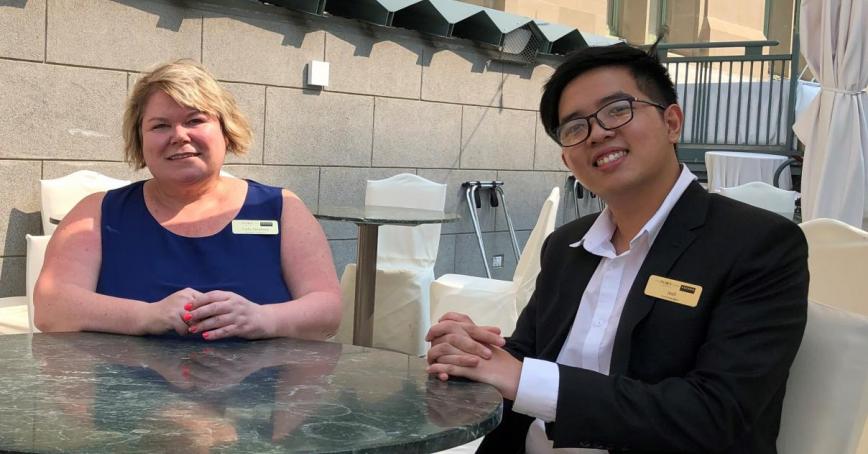 Cathy Stephens is completing her studies in the Master of Arts in Tourism Management (MATM) program at Royal Roads University and, for her final research paper, she didn't have far to search for a topic or sources of information.
With a focus on leadership resilience in the hotel industry during the COVID-19 pandemic, the veteran hotel leader needed only — with a nudge from her RRU advisor — to look in the mirror.
As Stephens tells it, while working through her masters over the past five years and working full-time, she considered several topics: Before COVID, her proposal was to write a paper on the shortage of qualified labour in the hospitality industry; mid-pandemic, she suggested covering the stresses on room attendants related to the new cleaning standards imposed by COVID.
"But my advisor says, 'Cathy, you are the data. You are the one who is living the research.'"
Thus, Stephens, who is the director of operations at the Fort Garry Hotel in her hometown of Winnipeg, settled on a topic: hotel leadership resilience, and redefining the definition of resilience.
"Organizations and people do not simply bounce back," says Stephens. But a resilient leader can overcome obstacles and challenges in their way regardless of how difficult they may seem.
She also references the seven pillars of resilience, including: accepting the situation; focusing on solutions; being flexible with strategies; trying not to be a victim; and having a strong support network.
"Although a contradiction in terms, we have had to be proactively reactive," Stephens says. "We have to be prepared to react to the potential for many different scenarios coming our way at any given time. The main example: ever-changing Provincial Health Orders. You've got to make decisions for your organization in an extremely short timeframe, you have to turn them around super quick."
In short, she says: "You have to react, you have to adapt, then you evolve."
Stephens understands evolution in the professional setting.
After leaving university, where she studied political science, she went travelling, then took her first hotel job as a room attendant in Beaver Creek, Yukon. After a stint teaching English at a hotel school in South Korea, she returned in 1998 to Winnipeg, where she has been — and has been working in hotels — ever since, in leadership positions such as front office manager, guest services manager and general manager.
In 2016, a year after she first learned about the Royal Roads MATM program — she'd never heard of the degree and had never visited Victoria — she applied and was accepted.
"Over the years, having all this experience in the tourism industry and hotels, it's my passion," she says. "I always knew there was more in me and I always knew I wanted to go back to school.
"I wanted to learn more about the industry but, also, contribute to the courses based on the knowledge I've acquired over all these years."
After all, she says, her mantra is: learn more, grow more, give more.
And in her position, she's giving back to another Royal Roads student. Hearing from someone at the school, she agreed to talk to a young man working toward a Bachelor of Arts in International Hotel Management. That talk turned into a job offer for Josh Pham, a 23-year-old who was planning to move to Winnipeg.
"The work that I do now is a great experience," says Pham, who works the front desk at the Fort Garry Hotel. "Great people, great energy."
His career goals include working in hotel sales and event management, and he says Stephens has been a great mentor. "I appreciate her. She's helped me a lot with everything. I'm so glad that in return that I help her."
"This is someone who's dedicated to the industry," Stephens says of Pham. "He's a quick study. We're thrilled to have him at the desk."
And she credits her time in the Royal Roads MATM program for her own progression in her industry, noting before she took the job at the Fort Garry Hotel, she produced a situational analysis for its owners — something she says she would never have done without her RRU education.
"It's given me more confidence," she says. "I feel I have a stronger voice. I feel I've become a better leader."
And, perhaps, a more resilient one, too.