RRU tourism student's passion project turned research a boon for Sooke
Topics
Featured
Share online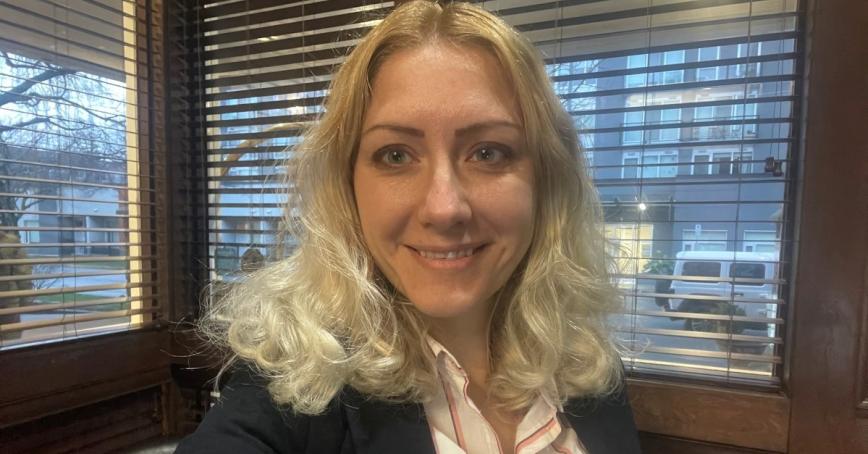 In her previous life, Katerina Moiseeva was a travel writer, illuminating some of the hidden gems of her native Russia, from the hot springs and wildlife of the Kamchatka Peninsula to hiking opportunities in the Yukspor Mountains above the Arctic Circle.
In her work, she provided an insider's perspective for outsiders.
While she was a student in Royal Roads University's Master of Arts in Tourism Management program, she has provided an outsider's perspective of tourism opportunities in Sooke to insiders in the Vancouver Island community. Moiseeva will graduate this spring.
A native of Moscow who lived her entire life in the Russian capital, Moiseeva started at RRU remotely in 2020 and came to Canada the following year, living for several months in Sooke. When she arrived in the town, which is about 40 minutes from Victoria, she says, she was far from home and alone for the first time — her husband and two children had not yet joined her — "so, to combat this isolation, I started doing research."
That research — and her weekend visits to Sooke once she moved to the Greater Victoria Area — eventually evolved into her major MATM project and she presented the results of that project to Sooke municipal council in January.
Moiseeva's strategy, she says, was to survey first-time visitors to Sooke both before and after their trips; indeed, the 168 survey respondents were roughly split in half along those lines. She connected with them in person at a hotel and the Sooke Region Museum and Visitor Centre.
She learned from tourists that the people of Sooke are welcoming and friendly; that visitors had built their pre-trip perceptions from friends who'd visited as well as from Google searches; that they rated Sooke favourably in terms of value for their travel dollars; that Sooke offered plenty of opportunities for outdoor recreation but perhaps needed more amenities in the areas of culture, shopping and entertainment.
Among her suggestions to council as well as business and tourism leaders was to enhance infrastructure to make downtown Sooke more walkable; create a cultural hub around the region's history; develop the Sooke harbour and marina area to welcome visitors from Washington State arriving by water; and seek out opportunities to partner with local First Nations for Indigenous tourism opportunities.
Moiseeva, who currently works as front desk manager at Huntingdon Manor Hotel in Victoria, says response from community leaders was, generally, that her findings reflected their own thinking on tourism in Sooke.
Asked for her own recommendations for visitors to her former temporary home, she listed: hiking the Juan de Fuca trail; visiting Sooke Potholes Provincial Park; strolling the often wet and windy Whiffin Spit; and, to get "the vibe of Sooke" and see the work of local artists, stopping for a bite and a sip at Serious Coffee.
As for her own travels, Moiseeva, who also holds a Bachelor of Journalism from Moscow State University and a Mastère franco-russe de journalism, says she hopes to continue researching and writing articles about the best spots on Vancouver Island.
"This is something that gives me a lot of energy, asking people their opinions, then writing about it."
We always want to hear stories about the people, programs and places that are the Royal Roads experience. Share yours via the RRU Story Exchange and it could be featured on our website and social media.