Royal Roads grad talks decolonization at the UN
Topics
Featured
Share online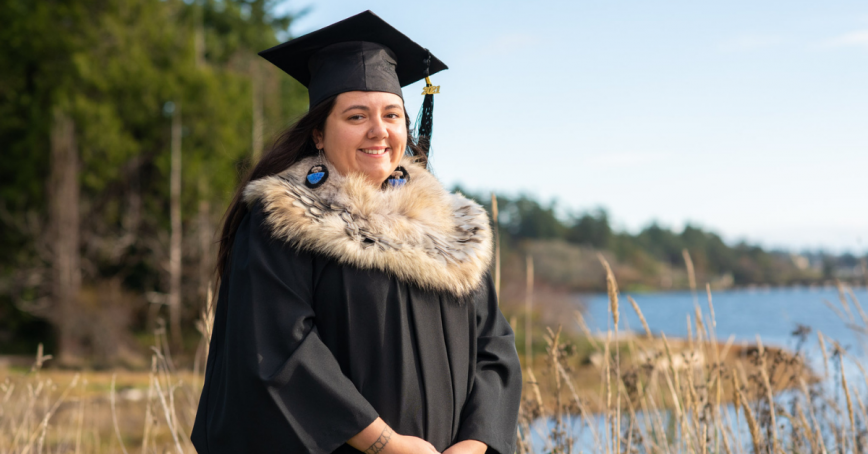 On Tuesday, March 8, 2022, Katelynne Herchak will join the Career Development Conference as the keynote speaker. Registration is required to attend. 
From Royal Roads to the United Nations, Bachelor of Arts in Justice Studies grad Katelynne Herchak recently had an amazing adventure. Herchak is Inuit and works for the Victoria International Development Education Association as an Indigenous Governance Advisor, doing decolonization resourcing development. Her work opened a door she never expected.
An affiliated organization, the British Columbia Council for International Cooperation, often looks for youth participation at unique and important events. They asked Herchak if she would like to participate in a panel discussion for Generation Equality connected to the United Nations. 
"We talked about feminism, decolonization and the importance of Indigenous women and other women of colour in the international development sector. I spoke of how decolonization is a personal journey before it's an outward journey," says Herchak.
Her participation was particularly personally meaningful because as a second-generation Sixties Scoop survivor, she has been in the process of reconnecting with family. She learned her family was prominent in Northern politics and her grandmother had even run for public office and travelled the world with Inuit art.
Herchak also discovered that she was related by marriage to a celebrated climate activist. As she uncovered these truths about her family, she came to feel there was an expectation that came from her lineage, and a sense of responsibility to do good in the community.
Beyond responsibility to her family, Herchak hoped that by participating in an event of this calibre that other Indigenous youth might feel that they belong in those spaces, too.
"I've had the pleasure of being a part of UNESCO forums. Looking around the room, you don't really see many people who look like you or talk like you. I hope by me entering these spaces more get to feel like they can take up space, and their opinions and thoughts, and feelings do matter," she explained.
Her advice to students considering big opportunities is encouraging.
"Just say yes, because you don't know where it's going to take you. Doing something that's really outside your comfort zone is going to benefit you in the long run."
Herchak has a heart for Indigenous youth, considering them to be a gift the world gets to learn from and she wants to show up for them and make a difference in the world.
Now that the event is over, Herchak has a new goal on the horizon. She has been accepted to a master's program at University of Victoria. She'll be studying geography and she's about to undertake more international work with more Indigenous people and continue her life-changing journey of transforming the world.
Want to watch the Paris event? See the video here.