President Steenkamp: Walking a better path
Topics
Share online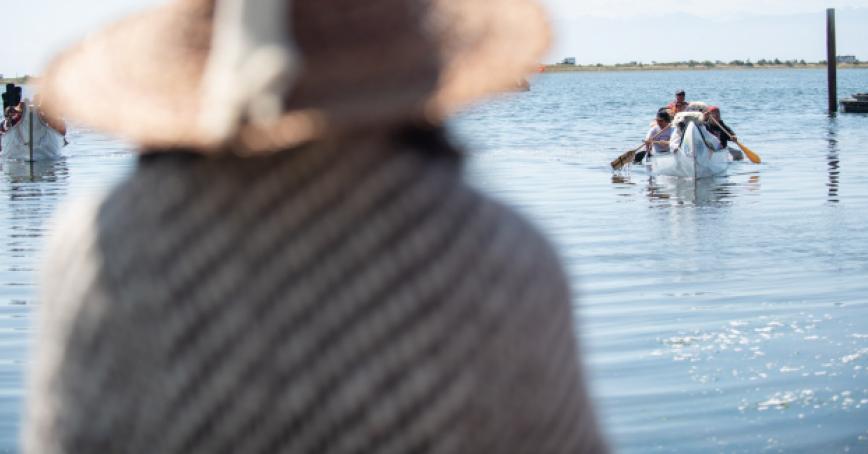 Royal Roads University acknowledges that the campus is on the traditional Lands of the Xwsepsum (Esquimalt) and Lekwungen (Songhees) ancestors and families. With gratitude, we live, work and learn here where the past, present, and future of Indigenous and non-Indigenous students, faculty and staff come together. 
Today marks the beginning of National Indigenous Peoples Month in Canada, an opportunity for us to honour the lives, history, heritage and culture of Indigenous Peoples (First Nations, Métis and Inuit) in Canada.
In the wake of the news of the 215 Indigenous children discovered buried on the grounds of the Kamloops Residential School on Tk' emlúps te Secwépemc Lands, I enter this month with a heavy heart. A heart in which I am balancing every ounce of grief with that much more love. A heart that knows with absolute certainty, our journey of conciliation must be one we walk forever.
Many have spoken of the horror of this discovery, of the shock waves reverberating through communities. But Indigenous People have been telling us about this dark truth for decades – so many children were taken, and so many never came home.
As non-Indigenous immigrants we must do all we can to become people who walk a better path alongside Indigenous People.
We must work to shed our colonial ways and be guided by the knowledge and teachings of Indigenous Elders/Old Ones/Knowledge Keepers such as the Heron Peoples Circle, and Indigenous students, staff, faculty and associate faculty at Royal Roads. Guided by their advice on grieving and commemoration, we will begin a series of conversations, but only when they tell us the time is right. 
We can also get involved in the celebratory activities and learning opportunities planned for National Indigenous Peoples Month throughout June and National Indigenous Peoples Day on June 21. The continued leadership of our Director of Indigenous Engagement Asma-na-hi Antoine has created strong partnerships with Indigenous and non-Indigenous organizations and communities that make these such wonderful events. I strongly encourage you to sign up for one or more and dedicate time this month to growing your understanding of and connection to Indigenous history, heritage and culture. This work is critical to advancing (re)conciliation.
Our university continues to work towards decolonization. This year we formalized the position of Indigenous Education Advisor and will soon start a search for an Indigenous scholar. In the next few months we will launch the Pulling Together education module created to educate faculty and staff around Indigenous history and culture. We are establishing a community of practice for faculty related to curriculum development and teaching. We have started conversations with RRU Schools to integrate Indigenous knowledge into curriculum. Later this year we will initiate a speakers series featuring Indigenous scholars. This summer we will finalize our Indigenous Engagement Plan and also work on a cultural representation strategy. This work sits largely with Asma-na-hi Antoine, Russell Johnston, our Indigenous Education Advisor, and our Indigenous Student Services Coordinator. I would encourage our RRU family to ask yourselves how you can take personal responsibility for making change so we can walk a better path with Indigenous People.
Today I will make a personal donation of $10,000 to the Royal Roads President's Indigenous Support Bursary. Typically this bursary is awarded each year to Indigenous students faced with exceptional circumstances as they work to complete their degrees. We are looking at broadening this award and also considering a new name for the fund, something that reflects the contemporary Indigenous students it assists and honours the children of residential schools who, because of colonization, were never given the opportunity to continue to learn and share their own knowledge.
If you are able, please consider a gift to this fund. All gifts are most welcome. There is no such thing as a small gift when it is given from the heart.  The university is also looking at other ways to financially support Indigenous students and we will have more information on this soon. If you would like to donate to the fund you can do so here.
My deepest thanks to you.
Philip