The market, Main Street and the common good
Topics
Featured
Share online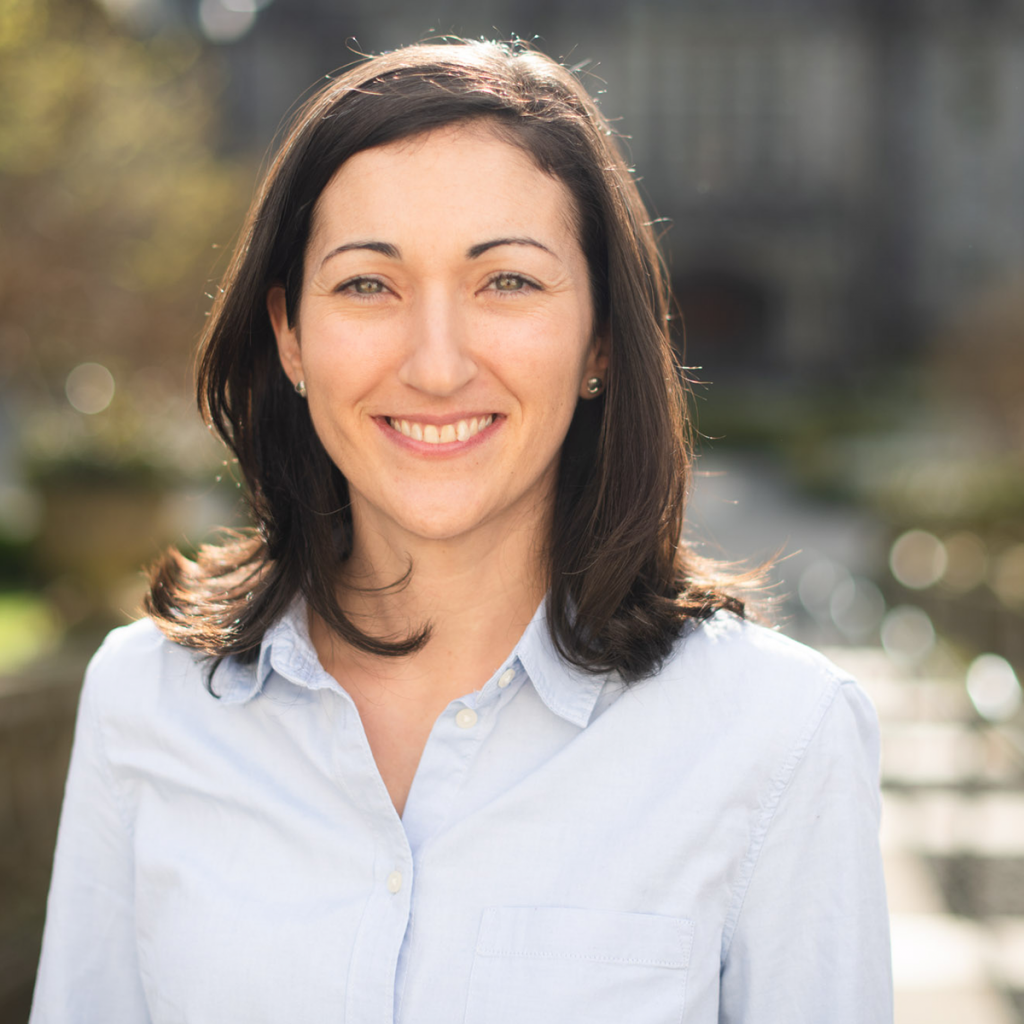 Dr. Heather Hachigian's multi-faceted research exists at the intersection of money, the marketplace and the common good — and that intersection is located squarely on Main Street.
How can local governments best spend tax dollars for goods and services locally to benefit their municipalities?
How can investments — at both the individual and institutional levels — become a force for social and environmental good while also ensuring long-term success?
How can non-profits take ownership of small businesses to not only generate income but also to sustain those valuable enterprises, and the jobs they create, when an owner is ready to sell or retire?
Hachigian is exploring those questions and more in her research at Royal Roads University, where she's an assistant professor teaching in the Master of Global Management program and the Graduate Certificate in Corporate Social Innovation.
A native of Parry Sound, Ont., Hachigian earned a Bachelor of Arts with combined honours in Economics and Political Science at Hamilton's McMaster University; a Master of Public Administration at Carleton University in Ottawa; and a PhD at the University of Oxford's Smith School of Enterprise and the Environment. She has worked in the private sector, as a senior consultant with Purpose Capital, an investment advisory firm that aims to accelerate social progress, and consulted with governments.
At Royal Roads, one of BC's six research universities, she is looking to explore and advance thinking about the free-market economy's role in social progress, with a focus on real-life problems and real-world study.
Originally, though, her interest was purely academic, looking at how to encourage markets and business models as forces of good.
"The essential focus for my research is really around this question of, 'how do we allocate capital in a way that aligns with advancing society, investing in ways that make society more equitable and just, and more inclusive and more environmentally sustainable as well?'" Hachigian says.
That requires what she calls "long-termism in decision making," meaning businesses take actions that are conscious of the impacts of climate change and social inequality, with the goal of being a force for good while providing returns for investors. It's a win-win, she says.
Which leads to her research projects at Royal Roads.
Your tax dollars at work
With funding from the federal Social Sciences and Humanities Research Council, Hachigian and associates are working in partnership with the City of Victoria, BC and civic governments in other coastal communities to study the impact of incorporating social procurement policies into their agenda. "Social procurement" can include purchasing goods or services from suppliers within the municipality who may not have the cheapest price but bring other benefits to the deal, such as hiring residents who might face barriers to employment.
"This research is around developing an impact-measurement framework that would allow for organizations to meaningfully measure the social value that a supplier [provides]," she says, adding that information could then be used by government officials when comparing bids.
Just buying goods and services based on lowest price is "missing those opportunities to connect the procurement decisions with some of their other policy interests around promoting employment… or solutions to poverty," she says.
"The lowest-price approach has been the dominant one for so long, there's this big shift that's needed," Hachigian says. "Governments are starting to really pay attention to this additional community or social value that suppliers are generating and recognizing that it's in their interests to start looking at their procurement decisions through the lens of additional value that's created."
Her research goal is to provide a consistent and transparent measurement framework for making such decisions that can be used by a variety of local governments and other public sector buyers, such as universities and health authorities.
The social networks
Another of Hachigian's research projects, one that has only recently launched, is developing a toolkit to measure the impact of social ventures.
These are companies, she explains, that address social and environmental problems by, for example, changing the trajectory of people living in poverty; addressing human and labour rights abuses in global supply chains; and fighting environmental degradation by engaging in the market. That could include producing and distributing products or services that address needs of low-income communities or individuals, and creating public benefits that are often left out of traditional business models.
One example she cites is D-Light, which distributes sustainable sources of electricity and lighting to some of the two billion people around the world without reliable access to electricity.
Hachigian says being able to measure the outcomes and impact that these ventures create is essential to attracting investors that want to see social impact returns along with financial ones. Impact measurement also ensures that ventures and investors are valuing and prioritizing the right things, and can help ventures in achieving their social or environmental missions.
Candy for the greater good
And for those with a sweet tooth, Hachigian's third research project, working with Scale Collaborative, explores the possibilities for keeping a community's venerable businesses alive after the departure of a founder or owner. As noted in a backgrounder on this research, funded by the Vancouver Foundation, Main Street businesses "are a critical part of community infrastructure throughout BC and being lost at an alarming rate" and "retiring or tired owners are often unable to find local buyers and face the hard choice of closing or selling at a discount to large, distant buyers."
Coombs Country Candy is one such business and the subject of a case study by Hachigian and her research partners. Founded by Murray Lawlor and originally located next to the Coombs Old Country Market, a Vancouver Island tourist attraction, his business operated for 26 years in Port Alberni until 2020, when he and his wife decided to retire. Instead of shutting the business and sending employees to the unemployment line, Lawlor sold the business — and his time-honed candy recipes — to the non-profit organization Community Futures Alberni-Clayoquot, which runs it as a social enterprise, re-investing some of the profits back into its efforts in the community.
She says non-profits recognize the value of businesses to their communities and their potential benefit to themselves, including diversification of revenue beyond government grants. But it's not a simple task for those organizations to take over a for-profit business.
Hachigian's team has developed an initial toolkit to guide non-profits considering getting into business through the process. They're holding workshops around Vancouver Island to share that information and encourage those social services organizations to perhaps purchase suitable businesses "that are core to the community" rather than start social ventures from scratch.
"We're certainly not suggesting that non-profits and charities run in and save every business that's about to close its doors," Hachigian says, noting a crucial part of her research is developing criteria for identifying businesses that would be suitable for transitioning to a social enterprise. Simply put, they settled on businesses "that, if they closed, would have to matter to more than just the owner. It would have to be felt in the community in some way."
"We're trying to get at those businesses that are core to community… that provide that sense of place and connection."
Core to her all her work is the hope that "the research helps to surface real examples of business and investment models that meaningfully lead to advancing more inclusive societies… a model of business of being a force for good."
This story is part of our Research in Action series – a selection of stories and videos showcasing innovative and relevant faculty research.