Madan named a distinguished academic
Topics
Featured
Share online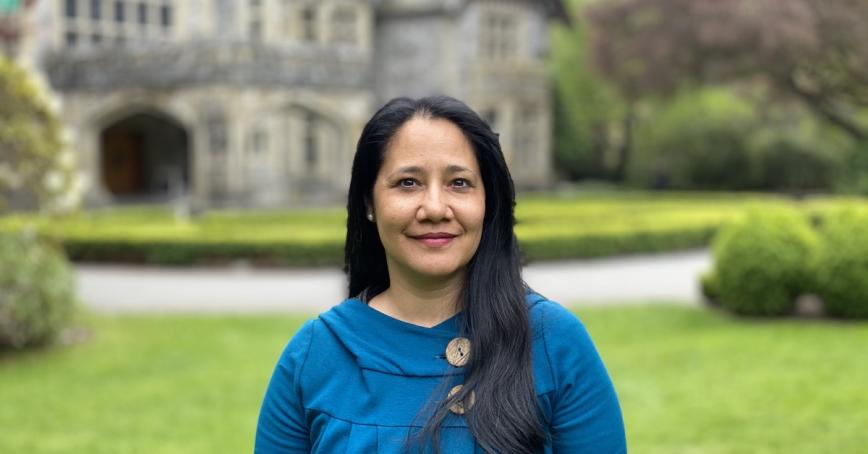 For someone early in her career, Dr. Athena Madan's CV resembles that of a more seasoned academic and researcher.
Since starting at Royal Roads University in 2017, the assistant professor in the School of Humanitarian Studies has received a number of nominations and awards including for her work to raise the profile of untold global health stories, and for her outstanding commitment to learning and teaching in the classroom.
This week, the Confederation of University Faculty Associations of British Columbia presented her with one more. Madan is the recipient of the 2021 Early in Career Award for her work on global public health, social accountability, humanitarian intervention and her "commitment to peace, justice, and the development of strong global institutions."
Philip Steenkamp, Royal Roads president and award nominator, gave his "unreserved support" to Madan's nomination for the award, citing her many important contributions to justice, peace, global health and anti-racist education.
"Madan's approach to mentorship, global citizenry and reciprocity, and ability to situate equity, diversity and inclusion at the heart of her work forms a vital part of the RRU whole," he says.
Madan's contributions are many, including as chair of Royal Roads' Anti-Racism Task Force, her three research projects on the Truth and Reconciliation Commission of Canada's (TRC) Calls to Action, and her work to diversify voices in research.
As an early career researcher, Steenkamp says Madan will undoubtedly continue to have an immense positive impact not only through her scholarship, but through her work with students and international communities of practice seeking a more equitable world.
Madan says she is "honoured" and "humbled" by the award.
"I'd like to acknowledge the esteemed accomplishments of all the nominees and I look forward to connecting with CUFA BC further," she says. "I am so appreciative of their recognition."
The Confederation of University Faculty Associations presents the annual Distinguished Academic Awards in three categories: Early in Career, Academic of the Year and Career Achievement.
The awards, valued at $2,000, recognize outstanding scholarship from academics from BC's five research universities.
Madan is the recipient of recipient of the 2018 Untold Stories Global Health Award, a Royal Roads 2021 Kelly Teaching Award nominee, and a nominee for the 2021 Global Health Lancet Award.