The Giving Garden: "a fabulous learning opportunity for our students"
Topics
Share online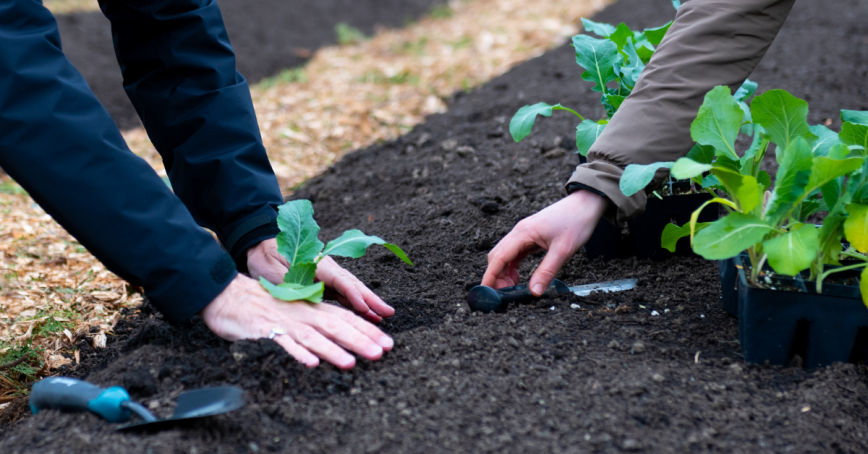 A new kitchen garden, designed as a learning lab and sustainable food production hub for the local community, was unveiled as part of Royal Roads University's annual spring fundraising campaign.
The unveiling of the first new planting site in the kitchen garden launches the second year of the Vision in Bloom campaign, with a target of $250,000 to support ongoing work to restore, reimagine and sustain the university's century-old gardens and ancient landscapes.
Royal Roads President and Vice-Chancellor Philip Steenkamp was onsite, introducing media to the garden, including CBC Radio's Robyn Burns from All Points West with Robyn Burns.
Here is some of what he had to say about the Giving Garden:
"It's a fabulous learning opportunity for our students. Learning about how you grow food, which I think is going to be increasingly important in our world given all the disruptions we've seen in the supply chain, but also to learn about food insecurity and how you address it," says Steenkamp. "A lot of the work we do at the University is tackling the United Nations Sustainable Development Goals and one of those goals is ending hunger, so it will be an intrical part of the learning program and research program."
Listen to the full interview on CBC's All Points West with Robyn Burns and read and watch more about the garden and Vision in Bloom on CHEK News, the Times Colonist, Black Press, CTV News, Academica Top Ten, and CFAX-1070.