The Farm at Royal Roads blooms bigger with TD Bank Group support
Topics
Share online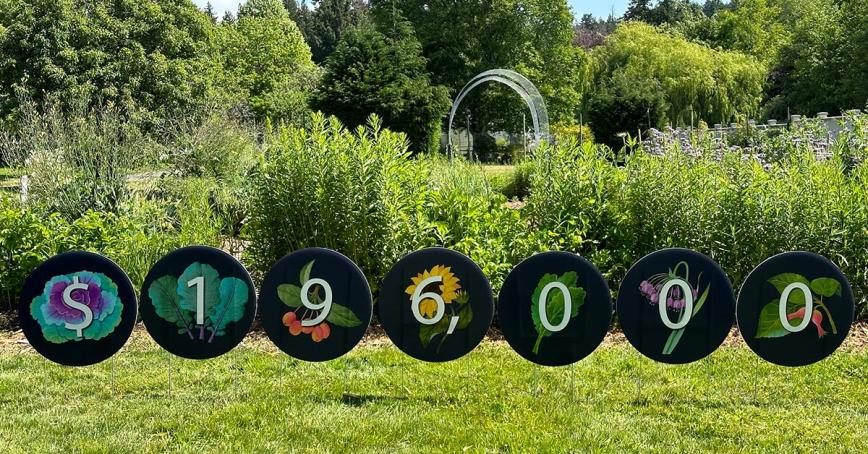 The sunshine – and a generous gift from TD Bank Group – is growing the Farm at Royal Roads University (RRU).
Today, TD announced a $196,000 donation to RRU's annual grounds and gardens fundraising appeal, A Vision in Bloom, which focuses on further developing the campus grounds to help tackle food insecurity, act on reconciliation, restore and preserve cultural heritage, and create biodiversity on the West Shore.
The Farm at Royal Roads, a reimagining of the former 5.26 acre walled Edwardian kitchen garden situated near Hatley Castle, produced more than 1,000 pounds of fresh vegetables during its first growing year in 2022. Dubbed the Giving Garden, the produce was provided to food-insecure seniors, single parents, newcomers to Canada and placed in an on-campus community fridge for students. 
This year, through the generous donation from TD and further support from the community, RRU will focus on expanding the Giving Garden, as well as establishing a Market Garden, which will sell produce to partners and the public at a campus farm stand with revenue reinvested into the Farm. Other plans include the establishment of an irrigated Indigenous Medicine Garden and Polyculture Orchard. The number of trees and biodiversity of plants will increase by 100 per cent over the next two years and the Farm will offer learning opportunities for community members, staff, faculty and students.
"With support from TD, our efforts to address food security, climate adaptation and reconciliation on the Farm will help us transform the space and become home to an expanded, diverse, community-based resource in the years to come," says Royal Roads University President Philip Steenkamp.
"We're so proud to help The Farm at RRU with their critical work to tackle food insecurity, advance reconciliation and increase climate resiliency," says Bruce Gray, Vancouver Island District Vice President, TD Bank Group. "Through the TD Ready Commitment, our corporate citizenship platform, we're supporting organizations focused on enhancing and activating green spaces that help build stronger, more resilient communities."
The Farm serves as a learning and research space for faculty, students and community members, providing hands-on educational experiences focusing on agricultural approaches that incorporate climate adaptation strategies and Indigenous ways of knowing. Garden volunteers are also welcome throughout the year to help with food production in the Giving Garden. Volunteer sessions are held biweekly on Tuesdays and Thursdays over the lunch hour.
"The opportunity to learn wise practices and try new ways of growing food – from sowing cover crops in the winter to creating spots in the garden that welcome pollinators – to try to adapt to our changing climate is invaluable to have first-hand experience with," says Nancy Prevost-Maurice, a student in the university's Master of Arts in Climate Action Leadership. "It's been a life-changing experience to integrate this learning and participate in the co-creation of plans for an Indigenous Medicine Garden."
Community donations to A Vision in Bloom – Royal Roads' annual fundraising appeal - supports further development of the gardens, including the revitalization of the Japanese Gardens and the construction of a Japanese teahouse on the grounds. Visit www.rruinbloom.ca to donate.
Learn more: