Environmental "wizard" named to the Order of Canada
Topics
Featured
Share online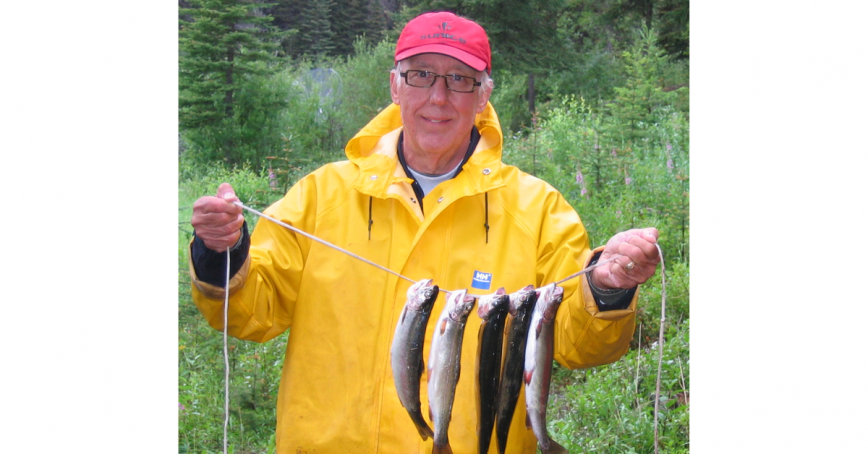 During a career spanning 55 years — and counting — Milt McClaren has always pursued different ways of doing and thinking. He has pushed people to do their best and pulled people in to share their best. He has grasped, rather than shied away from, great challenges, always seeking and seeing the possibilities within.
And with his work bridging the worlds of education and science, work that exemplifies empathy and inquiry, he has inspired and educated generations of teachers and others to learn about the environment and, most vitally, to share what they've learned with others.
For his efforts — officially, "for being a pioneer of environmental education and a trailblazer in the technological development of distance learning in BC" — McClaren was recently named a Member of the Order of Canada, one of the country's highest civilian honours.
An adjunct faculty member in Royal Roads University's School of Environment and Sustainability, McClaren, who's in his 80s, remains a regular at the on-campus residencies that are part of RRU's Master of Arts in Environmental Education and Communication program.
He was also there at the MAEEC program's birth 20 years ago — in fact, he played an integral role in its conception.
'He brings a beautiful wisdom'
McClaren made a proposal to the RRU Curriculum Council to create a new masters program with a focus on environmental education and communication. The council asked him to develop a full proposal and he invited Rick Kool, now a professor of environment and sustainability at Royal Roads, to collaborate in developing the curriculum for what would become the MAEEC program.
"We worked together on this but it was his instigation," says Kool, noting they worked on the details first over a drink at the now-defunct Bengal Lounge in the Empress Hotel, then during long discussions while McClaren wintered in Arizona.
"We just really put our heads together and tried to imagine what would be something that you wouldn't find at another university," Kool says. "That was the whole idea.
"He's such a broad thinker... He pushes himself, I think, and he pushes others, in an institutional and organizational way, to imagine how things could be better."
Hilary Leighton, RRU associate professor and MAEEC program head, says McClaren cares deeply about people, education and the ways we communicate it. She attributes some of McClaren's success as an educator to his vast network of friends, colleagues and contacts: scientists, school teachers and university administrators among them.
"Milt is the kind of a guy who gathers people in," she says. "He doesn't call them out, he calls them in.
"You'll find that generations of people who have been affected by Milt. And infected — he's infectious in that he's curious, he's open-minded with his critical and creative thought and wide perspective.
"He's like part of our family, our MAEEC family. He brings a beautiful wisdom," Leighton says, adding, "I don't think I can imagine a summer residency without him."
'A climate of partnership and teamwork'
Milton McClaren grew up in Vancouver, where he enjoyed his Saturday trips to the Vancouver Museum — and the Egyptian mummy it displayed — at what is now the Carnegie Centre. He attended the University of BC, pursuing a double major in education and science with the goal of becoming a high school science teacher. Instead, he added a doctorate in biological sciences at UBC, then applied for a faculty job at Simon Fraser University.
He started at SFU in May 1967 as an assistant professor with a joint appointment to the faculties of education and science. He was supposed to teach just one class his first semester — Biology 101 — but the head of the education faculty needed him to teach an additional one.
Those interdisciplinary appointments would set him up for the rest of his career.
"It was a wonderful experience. My career catapulted by the kind of mentorship I had at SFU and by the whole tone of the place," says McClaren.
Perhaps most important for both his life's work and his efforts decades later to create MAEEC — which follows the RRU framework of blended distance and in-person learning — was what he learned while working in continuing studies. He recalls that the university senate outlined the purpose of the department as "to make education available at times other than the normal times, by means other than the normal means and at places other than the normal place."
Also essential to the program's creation, McClaren says, were discussions with scientists at international environmental enclaves in Aspen, Colorado. "I often would have scientists who would say, 'We are good scientists, we do good scientific work, but we're terrible communicators. Surely we could do something? Surely there would be an opportunity to set up a program that would help to bridge that gap?'"
That's the "education and communication" part of the Master of Arts in Environmental Education and Communication.
And it's more important now than ever to both come up with solutions and communicate the dangers of climate change, he says.
"Our challenge in Canada is not just to write elegant policies, it is to create a climate of trust and a climate of partnership and teamwork.
"There's no use in just creating an elaborate, sophisticated policy statement if it can't be understood and appreciated and have ownership by ordinary, average people.
"We're all in this together. It's not just a game of winners and losers, and more or less, and that requires political leadership."
His own leadership is at the core of his Order of Canada nomination but he deflects the attention, saying, "Anything that I can say that I've accomplished has largely been because I was enabled by mentors, teammates, collaborators. That's the driving force here. It's not my personal brilliant inspiration."
'He is a very talented wizard'
Former colleagues and students might disagree.
For instance, Joanna Hardy is a teacher in Alberta who this spring completed her RRU MAEEC thesis, titled Discovering the Elements of Success for Outdoor Education Programs in Public High Schools. She says she met McClaren during her second RRU residency and his love for outdoor education was palpable.
"He beamed with so much knowledge and experience in outdoor and environmental education. He also had some amazing connections and ideas of people for me to interview… Milt had the ability to help me push through when I needed it and relax when I needed to focus on other stresses in my life."
Hardy adds: "Milt as an educator is very empathetic to the needs of the learner and he molds his methods to fit what that learner needs. I see it as wizardry — he is a very talented wizard in the way he pulls out magic tricks to help someone get it without giving the answers."
With a great award comes great responsibility
McClaren, who notes the Order of Canada nomination "caught me by complete surprise," says he has enjoyed a "torrent" of contacts from people such as Hardy, other former students and many colleagues since the announcement. And he admits it's rewarding to learn that others see worth in his work.
But the award has him thinking less about the past than about the responsibility it carries — or, as he puts it, "What's expected of you, or should you expect of yourself?"
He has a couple of projects on the go, he says, but in his thinking about his newly considered responsibility keeps coming back to empathy and what he can do to help people with challenges.
The greatest challenge facing humanity is climate change, and his thoughts about dealing with that reflect his experiences with the devastating Okanagan Mountain Park wildfire in 2003. The flames missed his Kelowna house by about 15 metres, he says, but McClaren and his family were among the tens of thousands evacuated from their homes.
In the aftermath, "Nobody got angry. Nobody got crazy. It was just basically people who got upset but restrained themselves and worked together."
There's a lesson there, he adds: "I believe that people have a great capacity to work together  if there is effective communication with them about what is happening and what might be done to change the situation, to address problems or explore options. Above all, we require effective communications in which people develop a sense of membership and ownership of the situations."