Dan Miller helped create Royal Roads
Topics
Share online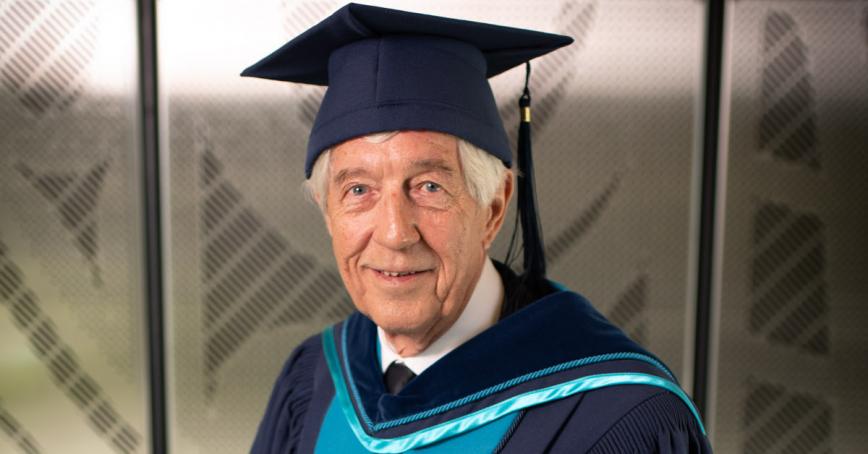 Dan Miller has never been defined by a single job.
He worked as a millwright in a pulp mill, but then signed on for several years as an assistant to Graham Lea, a minister of highways under NDP premier Dave Barrett. He went on to serve on Prince Rupert city council for three terms and, as a New Democrat, was subsequently elected MLA in 1986 in the riding now known as North Coast. And in 14 years in Victoria, he held a number of cabinet positions as a minister: Forests, Municipal Affairs, Energy and Mines, and Employment and Investment.
As well, for a brief period after the resignation of Glen Clark, from August 1999 to February 2000, Miller held the province's top job, serving as BC's 32nd premier as well as leader of the NDP.
But it was as Minister of Skills, Training and Labour (a portfolio now called Advanced Education and Skills Training) that his personal approach to continuous professional progress and improvement intersected with his job and a rare challenge: create a new university.
That university is Royal Roads.
And it's for his role in its conception and creation that the university is awarding him an honorary degree at its Spring Convocation June 18.
A university for working people
In 1995, Miller introduced the Royal Roads University Act, which created the university "to provide continuing education in response to the needs of the local community, and to maintain teaching excellence and research activities that support the university's programs in response to the labour market needs of British Columbians."
The wording of the act has been crucial to RRU's vision and its mission from day one.
Miller, 76, who was born in Port Alice and is now retired in Victoria, admits he was initially a little reluctant for the Province to take on the project when the federal government announced it was closing Royal Roads Military College after 55 years. It wasn't that Royal Roads didn't have potential; rather, BC had just opened the first new university in Canada in 35 years, the University of Northern British Columbia, and starting another was an expensive proposition. Thanks to lobbying from the community as well as cabinet colleagues Elizabeth Cull and Moe Sihota, the government proceeded.
But Miller didn't want Royal Roads just to be a smaller UBC or UVic.
"We had done a lot of work in my ministry on trying to look ahead in terms of the demands that would be placed on the workforce of the future," he says. "We could see a fairly significant decline in traditional industries [such as pulp mills]. And a lot of people were displaced… But the workforce was ill-equipped for change."
His ministry launched a project called Training for What?, in which it tried to identify future labour market needs. "We thought that was critically important. The world is never static and it was changing fairly rapidly. And that formed a big part of my thinking with respect to Royal Roads. I didn't want a traditional university."
To create a non-traditional institution, he says, the government moved away from the conventional governance model at other universities, where there is both a board of governors and an academic senate.
The model adopted for RRU – with only a board of governors – was controversial at the time but allowed the fledgling university to be nimble and quick at adapting to the changing needs of both the workforce and the economy.
Beyond bricks and mortar
Another innovation he and his ministry staff considered — and note that this was in the internet's early days — would set the stage for online learning before the ubiquitous tech tools of today existed and before the COVID-19 pandemic made it a necessity.
"My deputy, Gary Wouters, and I talked a lot about that, and about how we could look at ways of providing some courses in a non-traditional way — in another word, without bricks and mortar. Because we could increase [teaching] capacity fairly dramatically without the capital cost of new buildings.
"So [the internet] was very much part of our thinking," says Miller, who notes, "All the time I was a cabinet minister, I didn't use a computer."
He says looking back on how RRU started and what it has become is "very gratifying."
While he's quick to point out any such endeavour is a team effort inside a ministry, he says, "Looking back sometimes, you don't see as a cabinet minister often the fruition of what you started. You're constantly moved [to new posts].
"That's why I'm quite humbled to be given this honorary degree."
Asked about his inspirations as a public servant, he points to Tommy Douglas, considered the father of medicare in Canada, and former BC premier Dave Barrett. "They had intelligence, they had foresight, they had determination to make positive changes for people. That was the real inspiration for me in terms of my being in politics.
"You're not there just to get re-elected — nor are you there just to be popular. You're there to try to do things."
Dan Miller will be awarded an honorary Doctor of Laws degree at Royal Roads University's virtual Spring Convocation June 18 at 2p.m. Watch the ceremony here.