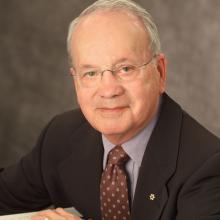 Myer Horowitz
Honorary Degree
Spring 2012 Convocation
Myer Horowitz has built a career, and a legacy, in education. Through professional commitments and extensive volunteer work, he has provided guidance and insights to programs from kindergarten to post-secondary.
Born in Montreal, Que., Myer started his professional career as a teacher in elementary and secondary schools. He joined the Faculty of Education at McGill University in 1960, before moving to the University of Alberta in 1969. There he served as vice-president (academic), dean of education, and professor and chair of the Department of Elementary Education. He was the president of the university from 1979 to 1989, and was named president emeritus in 1999.
During the 1970s, he served as president of the Early Childhood Education Council of the Alberta Teachers' Association; the M. E. Lazerte Chapter of the Canadian College of Teachers; the Canadian Committee on Early Childhood; the Edmonton Society of Edmonton; and the Canadian Bureau for International Education.
Myer remains active in post-secondary education. He is the chair of Royal Roads University's Research Ethics Board, an adjunct professor of education studies and a member of the advisory board in the School of Communication and Culture. He continues with the University of Alberta as a special adviser to the Centre for Research for Teacher Education and Development.
He is also an adjunct professor of education and leadership studies at the University of Victoria. He is the acting director of the Centre for Early Childhood Research and Policy. He is a research associate in the Centre for Youth and Society and is the past chair of its advisory board. As well, he is a member of the advisory committee for the Family Centre.
Myer is active in his communities, with appointments in Edmonton and Victoria including work with the Winnifred Stewart Foundation, the Child and Adolescent Services Association, Success by 6, the Salvation Army, Goodwill Industries and the YMCA.
Myer's work has been recognized through multiple honours, including the Special Recognition Award from the Canadian Teachers' Federation; the Fellowship and the George Croskery Memorial Award from the Canadian College of Teachers; the Honorary Life Membership from the Canadian Education Association; the Honorary Membership and the Certificate of Commendation from the Alberta Teachers' Association; and the Canadian Bureau for International Education's Award of Merit. He was admitted into the Order of Canada as an Officer in 1990 and received the Queen Elizabeth II Diamond Jubilee Medal in March 2012.