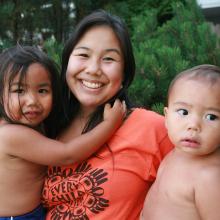 M'akola Housing Society
Chancellor's Community Recognition Award
Fall 2019 Convocation
M'akola Housing Society provides safe, affordable and appropriate housing options for Indigenous and non-Indigenous people and families in Greater Victoria and throughout British Columbia. M'akola provides more than 1,600 homes for 5,000 clients. Homes are provided for singles, couples and families, and M'akola also offers assisted living for Elders and seniors.
The society's foremost value is respect, which it demonstrates through relationships with the people it serves, and by honouring the Traditional Territories of the communities where it owns and operates affordable housing.
The organization was established in Victoria in 1984 as the Victoria Native Indian Housing Society to fill a critical service gap and combat discriminatory practices that affect Indigenous people's access to market rental housing. As it expanded beyond Victoria, the organization adopted a new name: M'akola Housing Society.
M'akola's success lies in the society's ability to partner effectively with other service agencies to find creative solutions to housing challenges, such as the conversion of a former hotel in Campbell River into 40 affordable homes.
The society's project at 550 Goldstream Avenue in Langford replaced five townhomes with 36 new affordable homes and two purpose-built offices for the M'akola Housing Society and M'akola Development Services. This project allowed M'akola to expand its support of operations and development of affordable housing.
The M'akola Housing Society also supports educational achievements by offering scholarships and bursaries to Indigenous students pursuing post-secondary education, as well as offering opportunities for students to work directly with M'akola in its mission through co-op, internship and practicum programs. M'akola also runs an annual holiday gift program in which its vendors donate funds to purchase holiday gifts for M'akola families and Elders.