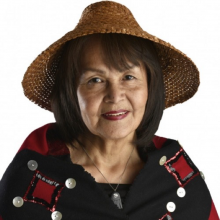 Lillian Howard
Honorary Degree
Fall 2021 Convocation
NOVEMBER 22, 1950 – OCTOBER 30, 2021
Lillian, we will remember you and honour your legacy of hope and inspiration, leadership and reconciliation.
Lillian Howard, a mother, grandmother, and great grandmother, came from the Mowachaht/Muchulaht First Nations in Nootka Sound on Vancouver Island. She often spoke of how her elders, particularly her great-grandparents, nurtured her deep dedication to service, family, Indigenous peoples, community, British Columbia and the environment.
Lillian made it her life's work to expand the recognition of Indigenous issues and to help teach others. Lillian's rich history of service and contributions over the decades date back to her involvement in the 1970s with the McKenzie Valley Pipeline Inquiry, investigating potential impacts on local Indigenous communities. In the 1980s, Lillian worked with the Union of BC Indian Chiefs to organize the Constitutional Express, a cross-country train journey galvanizing support for First Nations' rights. In the 1990s, Lillian was a co-chief negotiator for the Nuu-chah-nulth Framework Agreement; managed the treaty process for the Snuneymuxw and Oweekeno Nations; and worked for the Assembly of First Nations and the Union of BC Indian Chiefs. Lillian was active in the ReMatriate Collective and Idle No More movements, including joining Attawapiskat Chief Theresa Spence in her hunger strike, fasting for more than 30 days until Chief Spence broke her fast.
Lillian's community contributions are numerous and cross many sectors, including education, justice, environment and health. Highlights of her vast contributions include her past service as Chair of the Institute of Indigenous Government, Canada's first autonomous, Indigenous-led post-secondary institution and as a board member of EAGLE, Canada's first Aboriginal-environmental charitable law organization. Lillian was executive director and program manager of the Vancouver Aboriginal Community Policing Centre, taught at the Justice Institute of BC and more recently worked as an advisor to the Provincial Health Services Authority and provided support services to Indigenous patients and families at BC Women's Hospital. Lillian was a volunteer at the Aboriginal Front Door Society in Vancouver's Downtown Eastside community and was recognized as an Indigenous woman leader by the University Women's Club of Vancouver for her work on Canada 150+ as co-chair of the City of Vancouver's Urban Aboriginal Advisory Committee.
Lillian was a survivor of the residential school system, and her journey in the academic world was a testimony to her strength and resiliency. Lillian was a lifelong learner and alumni of Royal Roads, earning her MA in Environmental Education. Lillian's actions have sown and nurtured strong roots across the country. Her contributions to justice, health, environment and reconciliation will empower and awaken minds to Indigenous rights long into the future.