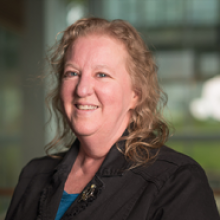 Karyn Lemberg
Senior Learning Technologist
CTET
Summary
As a Senior Learning Technologist, Karyn is responsible for course development, user training, and technical support of courses delivered through the Moodle Learning Management System (LMS). She works on various courses and projects to ensure an innovative and effective use of technology that delivers high quality learning and teaching experiences for RRU students and faculty. Karyn is currently the program liaison for the School of Education & Technology and assists with administering the WordPress Commons and Webspace sites.
She enjoys discovering & testing new technologies, tools and plugins, and helping with the CTET website.
Experience
Karyn has many years of experience in Graphic Design and eLearning Development, having previously worked as an eLearning Designer/Developer, Web & Multimedia Designer, Animator and Illustrator for both Print and Online courses. She has also run her own business as a freelance contractor creating interactive eLearning modules primarily using Articulate Storyline.
When there is time to relax, she'll be out in the gardens with a camera or walking on the beach with her 2 dogs.
Credentials
Multimedia & Advanced Animation (Honours)
Contact me