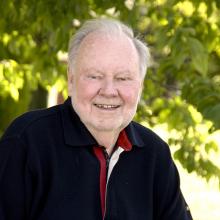 Gordon Denford
Chancellor's Community Recognition Award
Fall 2014 Convocation
Gordon Denford is a developer and entrepreneur committed to serving his community. The founder and owner of Berwick Retirement Communities has changed the way society looks at seniors' residences. His vision to build retirement residences that emphasize inclusiveness and community have improved the quality of life of thousands of seniors living in Victoria, Nanaimo, Comox and Kamloops.
Denford has played an important role in Victoria's economic prosperity through his several business operations, which he continues to help run with his son, Christopher. Headquartered in Victoria, the companies employ more than 600 people. Over nearly five decades, Denford has been involved in more than 100 building projects in Western Canada, including affordable housing for families.
During a time of skyrocketing interest rates in the 1980s, Denford partnered with other local businessmen to found the Western and Pacific Bank, which provided small businesses with access to capital at a time when the large banks were reducing lending activity. The bank later merged with the Bank of Alberta, and the Canadian Western Bank was formed to look after western regional interests.
In addition to his professional commitments, Denford found time to serve his community. He is a past member of Royal Roads University's Board of Governors, and Chaired Planning Advisory Committees for the District of Saanich and the City of Victoria. He was president of Tourism Victoria and served an eight-year term on the Board of the Victoria Airport Authority including two years as Chairman during a time when the airport was being rebuilt. In 1999, he was appointed by the Provincial Health Minister to serve on BC's Medical Services Commission representing the beneficiaries of the Medical Services Plan. Denford has sponsored and established scholarships and bursaries to support people training to be caregivers. In recognition of his business acumen and volunteer efforts, in 2010 Denford received the Victoria Chamber of Commerce Governors' Lifetime Achievement Award.
Denford came to Canada from England in 1940, at the age of 13, when he was evacuated during the bombing of Bristol in the Second World War. He studied science at University and later moved into business, working his way from salesman to owner of a group of construction and development companies.
He lives in Central Saanich and has two daughters, Valerie and Laura, a son, Christopher, and six grandchildren.