Related program area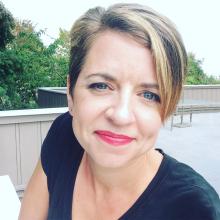 I have enhanced my leadership skills and ability to work effectively in teams.
"Before taking the Master of Science in Environment and Management program at Royal Roads University, I had completed two traditional undergraduate science degrees, as well as numerous professional training courses. A mid-career change was the basis for my decision to return to school; starting over in a junior-level position emphasized the need to enhance my education. I chose this program at RRU in part because the blended learning model is perfect for the working professional: enabling me to continue working while completing my degree.
The cohort learning model provided the opportunity to meet and work with people with entirely different perspectives, and this helped me to appreciate the diversity of learning methods and personalities. This led to lifelong friendships and the foundation of a strong professional network of globally-aware experts.
Undertaking my thesis at RRU was truly life-changing; it was an exercise in rigorous scientific research, determination, discipline and hard work, to a level I had never experienced before. Through this program I have enhanced my leadership abilities as well as my capacity to work in teams, and I am confident my MSc will continue to provide value for the rest of my career."