Share online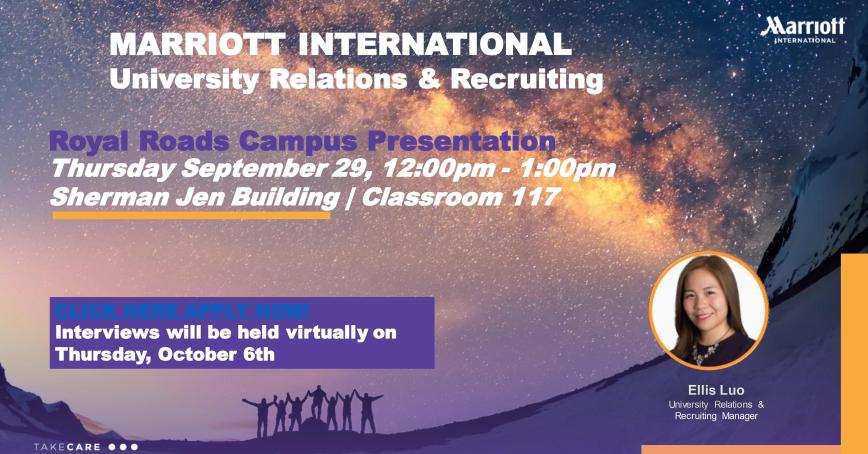 -
Timezone: PST
On-Campus event
In person
Sherman Jen Building | Classroom 117
Victoria BC V9B 5Y2
Canada
Join us on Thursday, September 29 from 12 to 1 p.m. (PST) for a lunch presentation on Marriott International and recruiting initiatives for 2023. Learn more about the largest hotel company in the world, with 30 brands in 131 countries. 
Register below to attend and bring your lunch!
We will welcome Ellis Luo, Manager, University Relations and Recruiting, Marriott Hotels of Canada, who will share information on the company and Marriott's Leadership Development program, VOYAGE.
This program is open to undergraduate students of all RRU programs.
Marriott International presentation & interviews schedule
Presentation: Thursday, September 29 from 12 to 1 p.m. | On-campus in the Sherman Jen Building, Classroom 117

Virtual interview: Thursday, October 6 from 12 to 3 p.m. | Virtual | Apply (see link  in the flyer) and sign up for interview appointment
Our guest Ellis Luo will also host virtual interviews on Thursday, October 6 between 12 to 3 p.m., for students interested in their VOYAGE program.
How to get involved
Open and review the Marriott International flyer and apply for the program using the link provided. Sign up ASAP for your preferred interview time slot (between 12 to 3 p.m.) by clicking here. 
Note: You must sign up for virtual interview time slot before end of day Tuesday, October 4.