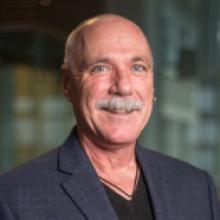 Eric Bigrigg
Instructional Designer
CTET
Summary
Eric has many years of experience as an online educator, course writer/developer, and instructional designer, at Brock and Vancouver Island University, and is passionate about the future of online distance education. Eric's recent experience working in the United Arab Emirates provided him with strategies to be a creative, flexible, adaptable, and culturally sensitive educator.
Eric enjoys consulting with faculty on the design, development, implementation and assessment of a variety of distributed learning initiatives including face-to-face course supplements, hybrid/blended courses and fully online courses and programs.
Eric continues to explore ways in which technology enhances online teaching and learning.
Experience
Eric started his career as an instructor and coordinator at Brock University and moved forward to become an educator/online facilitator, course writer, and curriculum designer in Brock's Faculty of Education Bachelor of Adult Education Program.
Most recently, Eric was employed as an educational technologist and instructional designer in the Centre for Innovation and Excellence in Learning at Vancouver Island University and as faculty at the Higher Colleges of Technology in Fujairah, United Arab Emirates.
Credentials
Master of Education in Curriculum Studies (2000) from Brock University
Bachelor of Education in TESL (1993) from Brock University
Honours Bachelor of Arts (1986) from McMaster University
Elluminate Moderator Certificate (2010)
Programs
Eric is currently teaching in the B.Ed. in Adult Education program at Brock University
Contact me