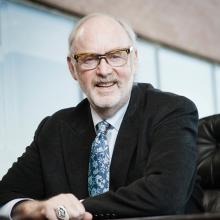 Dr. W. Lynn Tanner
Honorary Degree
Fall 2018 Convocation
Dr. W. Lynn Tanner is an entrepreneur and dynamic organizational leader with a passion for learning and personal development. As a scholar-practitioner, he is devoted to uniting academic business concepts with practice.
Tanner launched his career as an executive at Pan American World Airways in 1964. Responsible for strategic planning, he led the team that recommended using the first Boeing 747 in the United States. The so-called "queen of the skies" revolutionized aviation, as it increased affordability for travellers while decreasing travel time.
In 1972, Tanner accepted a faculty position at the newly established Florida International University, where he was responsible for graduate and undergraduate curriculum development. He opened his own management consulting firm shortly after and worked with clients such as Boeing's aerospace division, Knight Ridder newspapers, General Electric and the White House's 1974 Whip Inflation Now movement, a citizens' action committee created to combat inflation.
Tanner taught in the University of Calgary's Faculty of Management for five years. He left in 1982 to pursue other business opportunities, turning his attention to a variety of local, national and international companies. He eventually focused his efforts on assisting business leaders in achieving success.
Originally introduced to the power of peer advisory in the United States, Tanner founded The Executive Committee (TEC) Canada, the first organization to offer peer-based executive business development and support for Canada's senior executives, in 1985. TEC Canada has since expanded to 13 cities, from Victoria to Halifax, with more than 80 groups and 900 active members. In his role as TEC executive chairman, Tanner is committed to applying his learning to improving organizational practices.
In 2010, he founded the Tanner Lecture Series on Ethics, Citizenship and Public Responsibility at Syracuse University. The series invites leaders in various fields to discuss provocative and challenging topics, such as what it means to be an ethical citizen and the demands of public responsibility.
As a Royal Roads University Fellow, Tanner is part of a prestigious group of leaders who advise the president on current and emerging labour force and marketplace needs in British Columbia, across Canada and internationally.
Tanner holds a PhD from the Maxwell School of Citizenship and Public Affairs at Syracuse University (1975), as well as a bachelor's degree and a Master of Business Administration (1964) from Brigham Young University.