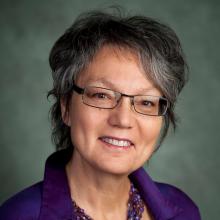 Dr. Neena Chappell, CM
Honorary Degree
Spring 2018 Convocation
Dr. Neena Chappell is a respected researcher whose career of more than 30 years has focused on better understanding the needs and abilities of older adults and their families and caregivers.
Chappell has shaped the discipline of gerontology as a founder of the field and is widely recognized as a leader to those studying the sociology of aging. Her research focuses on issues such as caregiving, healthy aging and dementia care, as well as health and social policy. Her work debunked the myth that most seniors are frail and revealed the strength and independence older adults can enjoy through active social networks.
During her academic career, she established two world-class research centres on aging at the University of Manitoba and the University of Victoria, both built on the pillars of academic excellence and community relevance. She has lectured extensively in Canada and internationally.
Chappell has served on a number of advisory boards and as an expert advisor to governments, including for Health Canada; the Canadian Institutes of Health Research's Institute on Aging; the Canadian Longitudinal Study on Aging; the Institute for Research on Public Policy; the Evidence Network and the BC Health Research Foundation. She has also served on the editorial boards of academic journals such as the Journal of Aging Studies, the Asian Journal of Gerontology and Geriatrics, Social Indicators Research and the Canadian Journal of Sociology, among others.
She has written more than 300 academic articles, chapters and reports and has authored, co-authored or edited 11 books. Her 2013 book, Aging in Canada, focuses on appropriate and cost-effective health care for an aging society.
Chappell holds a Doctor of Philosophy in Sociology from McMaster University (1978), a Master of Arts in Sociology from McMaster University (1973) and a Bachelor of Arts in Sociology from Carleton University (1970). 
She has received countless awards and accolades, including the University of Victoria's highest honour, the David H. Turpin Gold Medal for Career Achievement in Research; the Queen Elizabeth II Diamond Jubilee Medal; and dozens of academic and research awards, including a Tier 1 Canada Research Chair.
She is a fellow of the Royal Society of Canada, the Canadian Academy of Health Sciences and the Gerontological Society of America. She was appointed a member of the Order of Canada in 2018.