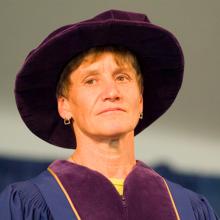 Dr. Elizabeth Ashton
Honorary Degree
Spring 2006 Convocation
Dr. Elizabeth Ashton holds a PhD in Education Administration from the University of Texas at Austin and has been president of Victoria's Camosun College since 1994. For decades she has played a vital role in post-secondary education in Canada and British Columbia.
Before taking up a successful career in education, Dr. Ashton was a member of the Canadian Equestrian team between 1969 and 1986, winning a Silver Medal at the Pan American Games in 1975, captaining the Gold Medal win for the Canadian Eventing team at the World Championships in 1978, and participating in three Olympic teams.
Dr. Ashton has received numerous distinctions, including the Commemorative Medal for the 125th Anniversary of the Confederation of Canada in 1992, the Distinguished Graduate Award from the College of Education at the University of Texas at Austin in 1997 and the Commemorative Medal for Her Majesty Queen Elizabeth's Golden Jubilee in 2003.
Dr. Ashton chairs the British Columbia College Presidents, a consortium that provides a voice for the B.C. College and Institute System. She is also a member of the province's Degree Quality Assessment Board and was on the Provincial Standing Committee which helped guide the strategic direction for the college, university-college, institutes and agency system in the province. 
Dr. Ashton also co-chaired the First National Executive Leadership Institute for the Association of Canadian Community Colleges.  She has served as campaign chair for the United Way Campaign, as Vice-President of the Board of Directors for the Greater Victoria YM/YWCA, as President of the Victoria 2000 Summer Games, as a Director of the Greater Victoria Economic Development Commission and as a member of the Greater Victoria Chamber of Commerce.