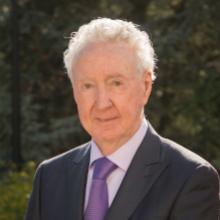 Dr. David Harris Flaherty
Chancellor's Community Recognition Award
Fall 2015 Convocation
Dr. David Flaherty is not only a specialist in the management of privacy and information policy, but also a committed supporter of the arts, a philanthropist and a dedicated volunteer.
He served a six-year term as the first information and privacy commissioner for the Province of British Columbia from 1993 to 1999, pioneered developments in privacy compliance auditing and built a privacy office with an enviable record for successful mediation of access to information disputes.
Flaherty has continuously developed innovative methods to enhance the protection of privacy for citizens of B.C. and beyond.
Flaherty has been a member of both the External Advisory Committee to the Privacy Commissioner of Canada from 2004 until 2014 and a member of the advisory board for the B.C. Office of the Information and Privacy Commissioner since January 2011. Since 2000, he has been the chief privacy advisor to the Canadian Institute for Health Information and a Director of MAXIMUS BC Health Inc. since 2005.
He has taught at Princeton University, the University of Virginia, the University of Western Ontario and the University of Victoria and has held fellowships and scholarships at Harvard, Oxford, Stanford and Georgetown Universities.
Flaherty's longstanding interest in and dedication to the arts was established as a graduate student and continues as a collector, supporter and fundraising leader. He has served as a two-term president of the Pacific Opera Victoria and presently serves as trustee for the Pacific Opera Victoria Foundation.
In his dedication to the growth of a vibrant arts community, he emphasizes the importance of developing and nurturing local talent. Under his leadership as president, Pacific Opera Victoria established the Baumann Centre for Pacific Opera in downtown Victoria, a creative home for a broad spectrum of arts initiatives in the capital. He received the Generosity of Spirit Award from the Association of Fundraising Professionals of Vancouver Island in 2012.
Flaherty holds Bachelor of Arts in History (hons) from McGill University (1962), a Master of Arts in History (1963) and a PhD from Columbia University (1967).