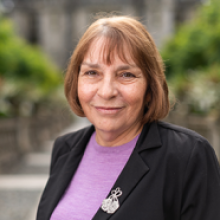 Donna DesBiens
Instructional Designer
CTET
Summary
Donna brings significant experience to designing and facilitating online courses in a variety of Canadian and international learning environments. She enjoys working with diverse colleagues across the disciplines to develop creative curriculum that enhances learning experiences for all participants. Donna's particular areas of expertise are in culturally responsive learning design, collaborative learning, and the engaged pedagogies, which dovetail with the RRU Learning, Teaching & Research Model. On leisure time, Donna enjoys the visual and performing arts, speculative science fiction, yoga, and fine weather fly fishing.
Experience
Donna began doing learning design and facilitation with the University of Calgary Adult Learning program during her master's studies there and later provided instructional design services across a range of disciplines at the Southern Alberta Institute of Technology and Thompson Rivers University. Donna has also collaborated on various interculturalization projects, which include re-designing business communication courses for the OERu, contributing to the Intercultural Intersections community of practice, and co-authoring articles on cultural responsive design, pedagogical values, and universal design for learning in online learning contexts. 
In community service activities, Donna recently co-designed and facilitated two BCcampus micro-courses, provides peer reviews for educational publications, and currently co-chairs the RRU Diversity Action Group.
Credentials
Donna earned her M.A. in Educational Research with a focus on adult, community, and higher education from the University of Calgary and her BA in Psychology from Simon Fraser University.  She also holds certificates in Facilitating Learning Online and the Instructional Skills Workshop from Royal Roads University and in Higher Education Teaching Skills from the University of Calgary.  
Programs
Donna is CTET learning design liaison for the School of Leadership Studies and the Global Learning and Language Centre English Language Programs. She also holds the CTET intercultural learning portfolio, which includes designing and co-facilitating the Intercultural Foundations in Education teaching workshop.
Contact me