Related program area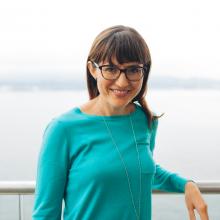 At Royal Roads University, I developed academically, professionally, and personally.
"I was drawn to Royal Roads because of its reputation for excellent academic programs, flexible study options, and course offerings. I had been working in media relations and communications for 10 years throughout Canada and internationally, and I wanted to deepen my knowledge and career prospects in the field of communications, with a particular interest in pursuing a Master's program related to cultural and international studies. Royal Roads is the only university I could find in North America that offered an MA in International and Intercultural Communications. The program itself was well established and well reputed, and I was drawn to each of the courses offered, including the study-abroad component. Royal Roads University was a perfect fit with my personal and professional goals.
My experience at Royal Roads exceeded my expectations. From the strength of the curriculum to the support and knowledge of my professors, to the breadth of experiences of my cohort, I developed academically, professionally, and personally."