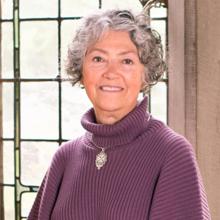 Denise Savoie
Chancellor's Community Recognition Award
Spring 2013 Convocation
Denise Savoie is a passionate and committed citizen, serving her local and national community throughout a 13-year political career. She is a respected communicator who is known for her ability to provide and facilitate constructive communication across political parties on important issues, particularly in regards to sustainability and social justice. 
Born in St. Boniface, Man., Savoie is a teacher by profession. Her postings included time as a French teacher at Royal Roads Military College, now the location of Royal Roads University. Savoie holds a MA in French literature from the University of British Columbia and a MA of language education from the University of Grenoble.
Savoie served in elected office from 1999 to 2012, first as a Victoria city councillor and Capital Regional District director from 1999 to 2005 and then as elected member of parliament from 2006 to 2012. Prior to her roles in public office, Savoie was an active volunteer in her community.
During her time as city councillor and Capital Regional District director, she spearheaded the development of the Galloping Goose Trail as an alternate transportation route through the region. Designated a park corridor, the popular trail connects urban, rural and semi-wilderness landscapes for pedestrians and cyclists. She also helped establish a regional housing trust in Greater Victoria and championed a cleanup of the Inner Harbour. Savoie is the 2005 recipient of the Eco-Councillor Award, from the Canadian Institute for Business and the Environment, and a Community Service Award from the Canadian Society for Landscape Architects. 
As a representative for the NDP, Savoie was elected as member of Parliament for Victoria in 2006, the first woman to hold this riding. She was re-elected in 2008 and 2011. While in office she supported initiatives to bring light rapid transit to Greater Victoria, as well as increased access to affordable housing for seniors. She introduced legislation that reflected the values and priorities of her constituency, including calls to create a national childcare program and ban tankers from sensitive coastal waters.
She was named deputy chair of the Committees of the Whole, and she also served as deputy speaker of the House from 2011 to 2012. Savoie lives in Victoria. She has three children and six grandchildren.