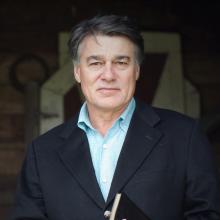 David Whyte
Honorary Degree
Fall 2016 Convocation
Poet, author and speaker David Whyte uses the spoken and written word to inspire reflection and action in the lives of those who read and hear his work. He has said that all of his poetry and philosophy looks at the conversational nature of reality.
Whyte is one of the few poets to take his perspectives on creativity into the field of organizational development. In addition to the literary world of readings that most poets inhabit, his work has found an appreciative audience in the worlds of philosophical enquiry and vocation, work and organizational leadership. He is an Associate Fellow at the Saïd Business School at the University of Oxford. He has taught annually at Royal Roads University as part of the Continuing Studies program since 2007.
Through poetry and thoughtful commentary, he illustrates how we can foster courage and engagement, qualities necessary to respond to today's call for increased creativity and adaptability in the workplace. He brings a unique contribution to the understanding of the nature of individual and organizational change, arguing persuasively that our engagement with work is deepened and sustained through holding real and courageous conversations.
Whyte founded Invitas: The Institute for Conversational Leadership in 2014, which offers training and professional support in the art of conversational leadership. He has worked as a naturalist guide in the Galapagos Islands, and led anthropological and natural history expeditions in the Andes, Amazon and Himalaya. Whyte hosts annual poetry and walking journeys in Ireland, England and Italy. He brings this wealth of experience to his poetry, lectures and workshops.
Whyte has written eight books of poetry and four books of prose. His three books focusing on work and vocation all topped the business bestseller lists. His most recent book on this topic is The Three Marriages: Reimagining Work, Self & Relationship, released in 2009. He received his formal education at Bangor University in Wales where he earned a Bachelor of Science with Honours in Marine Zoology in 1977. Whyte was awarded an honorary doctorate from Neumann College, Pennsylvania in 2008.