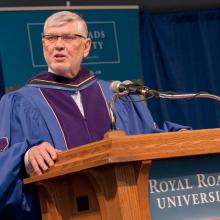 David G. McLean
Honorary Degree
Fall 2009 Convocation
Born in Calgary, David McLean grew up in Edmonton where his father was a train dispatcher with CN. He moved to Vancouver in 1968 and started the McLean Group in 1972, becoming its fulltime chair and chief executive officer in 1985 after leaving a successful law practice. Today, the family-owned investment company, which started with a focus on the real estate industry, has diversified to include film production, communications and aviation.
In addition to heading Vancouver Film Studios Ltd. – the largest film and television production facility in Canada — Mr. McLean is chair of Signal Systems Inc., Blackcomb Aviation Inc. and the Canadian National Railway Company. He, in fact, played a key role in the privatization of CN Railway and has retained, by annual vote of the Board, the role of chair since 1994.
Formerly a director of DeHavilland Aircraft of Canada, Northwestel, CANAC Consultants Ltd. and Nu West Group, Mr. McLean has served as chair of the Vancouver Board of Trade, the Canadian Chamber of Commerce and the Board of Coastland Wood Industries.  For many years, he was also chair and director of Concord Pacific Group Inc. – a public real estate company which was privatized in 2002 – and he was the founding chair of Westech Information Systems, the former information systems arm of B.C. Hydro which he led through privatization from its parent company.
In 1999, Mr. McLean was appointed to the Order of British Columbia and, in 2006, he was made a Fellow of the Institute of Corporate Directors. In 2008, Royal Roads University invited him to join its inaugural Fellows Council.
Mr. McLean's environmental, philanthropic and community interests include a commitment to preserving Canada's wetlands, through Ducks Unlimited Canada of which he was a member of the board for many years, and as the only Canadian on the board of Wetlands America Trust - a $1.7 billion charitable trust for Ducks Unlimited in the United States. He also served as national chair of the Duke of Edinburgh's Award Charter for Business for many years.
Mr. McLean was chair of UBC's board of governors and one of the co-chairs of the University of Alberta's $500 million capital campaign. He was the senior federal representative on the 2010 Bid Committee for the Winter Olympics in Prague in 2002.
 
Mr. McLean holds a Bachelor of Arts degree and Bachelor of Law degree from the University of Alberta and honorary degrees from the University of Alberta, the University of British Columbia and Simon Fraser University.
He is married to Brenda McLean and they have two sons, both in senior management positions at the McLean Group.