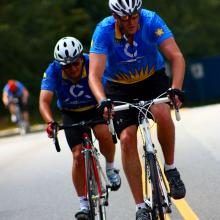 Cops For Cancer
Chancellor's Community Recognition Award
Spring 2003 Convocation
Cops for Cancer is a partnership between Canadian police agencies and the Canadian Cancer Society. This initiative involves police undertaking a variety of fund-raising activities in support of the society's programs. On Vancouver Island, Cops for Cancer has stipulated that funds raised go toward research into those cancers with a high incidence in children and in support of children with cancer. They have also asked that 30 per cent of funds raised be donated in support of the Canadian Cancer Society's Camp Goodtimes, a free summer camp for children with a history of cancer. 

A key element of the Cops for Cancer program is the Tour de Rock, a 1,000-kilometre cycling journey from Port Hardy to Victoria. The Tour de Rock galvanizes individuals, organizations and businesses in communities en route to hold local fundraising events – of which head shaving events are a particular favourite. By the end of last year's tour, Cops for Cancer had raised close to $3 million in just four years.

The Chancellor's Community Recognition Award will be accepted by Doug Richardson, chair of the Cops for Cancer committee, and Lesley Petrie, co-ordinator of the Cops for Cancer Tour de Rock.