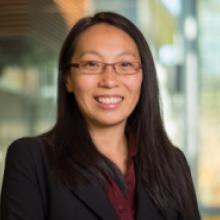 Cathy Pretorius
Senior Learning Technologist
CTET
Summary
As a senior learning technologist, Cathy is responsible for course development, user training, and technical support of courses delivered through the Learning Management System (Moodle LMS). She works on various courses and projects to ensure innovative and effective use of technology that delivers high quality learning and teaching experiences for RRU students and faculty.
Experience
Cathy joined RRU in 2013 and has extensive experience in developing elearning courses in Moodle, providing training to faculty and staff, and integrating new media and learning technologies. She has over 10 years experience in web design and multimedia development, customising content management systems, designing user interfaces and designing marketing materials. She has also run her own business as a freelance web designer and developer. She has worked for a variety of companies including Best Buy Canada, Leap Web Solutions, Royal Bank Financial Group, and the Ministry of Transportation and Highways.
Credentials
Cathy holds a Bachelor of Commerce degree specializing in International Business from the University of Victoria. Along with multimedia courses at UBC and BCIT she has also taken a variety of online courses.
In her free time she loves taking creative classes and enjoys painting, arts, crafts, travelling and photography.
Contact me