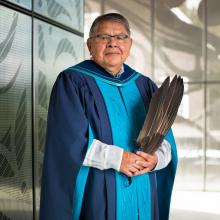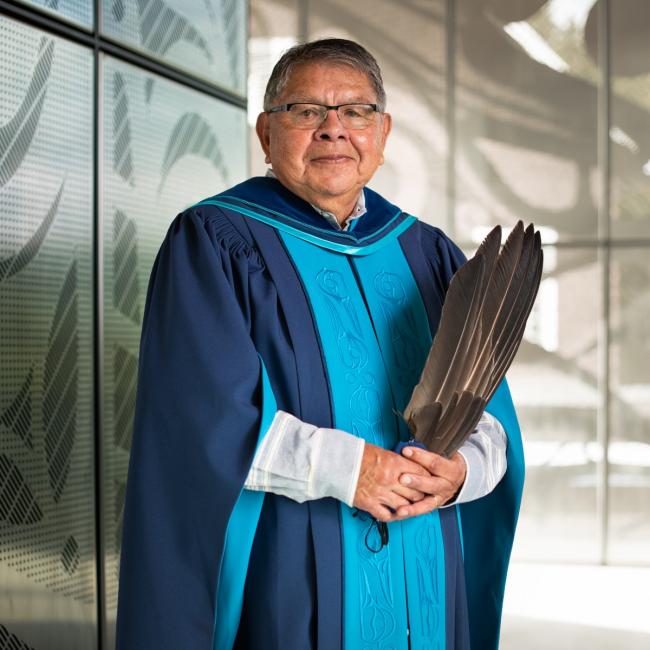 Butch (Clarence) Dick
Honorary Degree
Fall 2021 Convocation
For more than 20 years, Yux'wey'lupton, known by his English name, Clarence "Butch" Dick, has dedicated his time to Indigenous youth empowerment as an educator and mentor. Butch is a member (Elders and Old Ones) of the Heron Peoples Circle, who guides Royal Roads University staff and faculty in supporting reconciliation in action and traditions. Butch is a respected knowledge keeper and vocal advocate for his ancestors, relations and Nation in the call for equality, justice and empathy as essential for society to flourish. Butch is an accomplished and celebrated artist, and his creativity is evident throughout Victoria as he weaves traditional teachings back into the fabric of the city's culture.  
The pursuit of Indigenous youth empowerment and educational equity has underpinned Butch's two-decade-long career with School District 61 in Greater Victoria. He shared his determination and traditional knowledge with the BC Ministry of Education while co-developing the K-12 First Nations art curriculum, as an assistant professor of Indigenous Teaching and Learning at the University of Victoria, and as the education liaison for the Songhees Nation.
Butch is a celebrated community builder, receiving a Lifetime Achievement Award with Leadership Victoria. He was instrumental in the Songhees Recreation and Wellness Centre launch and the driving force behind the Indigenous Youth Showcase – a youth mentorship program focused on each individual's artistic vision, focus, and career path.
As an active member of the Royal Canadian Academy of Arts, Butch has shared his creativity, traditional knowledge and deep respect for nature in his Signs of Lekwungen commission and his carvings and murals throughout Victoria. The City of Victoria consulted with Butch when redesigning the Spirit Square, including the Brother Poles, carved by his sons Clarence Dick, Jr. and Bradley Dick.  The Songhees Recreation and Wellness Centre is also home to numerous artistic pieces designed by Butch, including the ground's Honour Poles.
It is a considerable honour to have Butch's guidance and advice supporting the Royal Roads family across numerous departments. His contributions strengthen reconciliation and reflect its power and spirit throughout the university. Including the redesign of the Chancellor's and Vice-Chancellor's convocation regalia, his impactful design of the Heron People Circle logo or his carving outside the Boathouse, Clarence "Butch" Dick is making many significant differences in this family and surrounding communities.