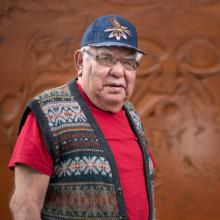 Burt XEMXIMELEḴ Charles
Honorary Degree
Spring 2019 Convocation
Burt XEMXIMELEḴ Charles is a Hereditary Chief, Elder and former Elected Chief of the Scia'new (Beecher Bay) First Nation. For more than 60 years, Charles has exemplified the values of leadership and reconciliation for the Scia'new People, British Columbia and Canada.
XEMXIMELEḴ's traditional name comes from the Tsawwassen People on his mother's side of the family, who also have roots in Saanich. XEMXIMELEḴ follows the Scia'new lineage of his grandfather, Hereditary Chief Tom SUTIECIUM Charles and his father, Hereditary Chief Jasper Tom SUTIECIUM Charles. XEMXIMELEḴ's extended family members are located in traditional territories from Seattle (named for his ancestor, SI'AḤḺ) to Elwha on the Olympic Peninsula, and from Beecher Bay to Nanoose Bay.
As with other Indigenous children who were barred from attending public school closer to their home communities, Charles made the daily journey from his home in Beecher Bay to "Indian day schools" operated by the Catholic church on the Songhees Reserve and St. Louis College (later known as St. Andrew's Elementary School) on Pandora Avenue in Victoria. He left school at age 15 because of abuse, but returned to education later in life, studying business administration at Camosun College.
He was elected to Scia'new Council in 1958 and as Chief in 1967, holding the latter position for more than two decades. As Elected Chief, Charles brought improvements to the community such as electricity, running water and new homes. A persuasive negotiator, he obtained the right for band councils to negotiate with banks and obtain house insurance. He also secured traditional fishing rights for the Scia'new. He used other methods of persuasion when necessary, as when he and the council erected a blockade to demand a paved road through the nation's land.
Charles helped found the Union of British Columbia Indian Chiefs in 1969. He and other Chiefs from the union campaigned against Prime Minister Pierre Trudeau's 1969 "White Paper," which aimed to repeal treaties, restrict land claims and turn reserves into municipalities. The Chiefs' campaign and 1970 "Brown Paper" scuttled these plans and were foundational to the rise of Indigenous voices in Canada.
Charles is accompanied in leadership by his wife, Lavina SPOȽTENOT Charles, a SENĆOŦEN language holder, Elder and teacher. The Charleses' struggles for civil and Indigenous rights included their family; their eldest daughter was the first child from Scia'new to attend public school. This act of courage helped to abolish educational segregation of Indigenous children across Canada.
Charles continues to practice and teach Scia'new traditions. He is committed to building bridges of understanding between Indigenous and non-Indigenous people and generously provides his time to public schools and post-secondary institutions. Charles has supported Royal Roads' Tse Tsa Watle Speaker Series and has shared his story with faculty to inform research and education. Burt and Lavina Charles are members of the university's Heron People, trusted Old Ones/Elders and Traditional Knowledge Keepers.
Hay'sxw'qa si'em!