Related program area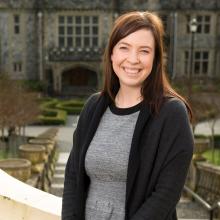 The program gave me the skills, knowledge, and professional credibility required for success.
"I have a background in Human Resources and Labour Relations and have spent most of my career in the healthcare industry. I was interested in a masters' level program within the field of conflict analysis to support my Alternative Dispute Resolution skills and provide me with the theoretical knowledge and an understanding of the effects of conflict, potentially enabling me to shift the focus of my career. The blended model of distance and physical learning offered through the MA in Conflict Analysis and Management at Royal Roads University appealed to me, as I was considering a move across the country and expecting a baby; this program accommodated both life changes while allowing me to pursue my MA.
My goal is to establish an independent practice within the emerging field of conflict management and ADR. I feel the program has provided me with the skills, knowledge, and professional credibility required to do this successfully."