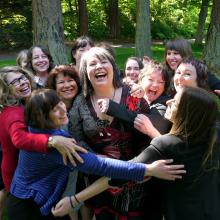 Bridges for Women Society
Chancellor's Community Recognition Award
Fall 2017 Convocation
The Bridges for Women Society has transformed thousands of lives by helping women impacted by violence, trauma and neglect break the cycles of abuse through healing and employment.
Bridges for Women offers crisis intervention and advocacy, trauma counselling, mentoring and unique employment training programs for women in a safe, non-judgmental environment. The first organization in Canada to recognize the effects of trauma on education and employability, Bridges helps women increase job readiness and build economic security, which then helps free them from the impacts of trauma and abuse to reclaim their lives.
In 1988, the Bridges "Founding Mothers" set out to create programming and a community where women could feel safe enough to take on the challenges of changing their lives. They created a place where women who have survived abuse can rediscover their self-worth and value while exploring and planning their future.
The Bridges team of counsellors, social workers and career development staff draw on their extensive knowledge of the impacts of abuse on employability to provide education, training and consulting. Bridges partners with community organizations, agencies and First Nations to offer flexible and responsive programming, training and resources, with specialized programs available for newcomers, seniors, members of the LGBTQ community, and Métis and Indigenous women. Programs include English, math and computer upgrading courses provided in partnership with Camosun College; development of resource materials for newcomers in collaboration with the Victoria Immigrant and Refugee Centre Society; and culturally safe and specific face-to-face programs for women in their own community delivered in partnership with the Pauquichin, Tsawout and Sc'ianew First Nations.
The society serves women on southern Vancouver Island and the southern Gulf Islands, with online programming and trauma counselling supporting women in Campbell River, northern Vancouver Island, Revelstoke, Salmon Arm and surrounding communities. One of three locations in the Greater Victoria region, Bridges' new headquarters opened in 2015 and includes a computer lab, two kitchens and new classrooms.
Bridges for Women received the Community Social Planning Council's Quality of Life Award in 2005 in recognition of its commitment to preventing and reducing poverty in BC's Capital Region.